Computer Information Systems Graduate Program

The Computer Information Systems Department provides education and a degree in Computer Information Systems that equip a predominantly urban student body, including those from the New Orleans metropolitan area, with knowledge and skills essential for careers in business and government, or for pursuing further studies.


Ghasem (David) Alijani, Ph.D., Chair
Business & Public Administration Building, Room 110
504-286-5142
dalijani@suno.edu

Professors: Ghasem (David) Alijani, Ph.D.
Associate Professor: Obyung Kwun, Ph.D.
Assistant Professors: Yanjun Yu, Ph.D., Nabie Conteh, Ph.D.
---
Mission
The purpose of the Master of Science Program in Computer Information Systems (MS-CIS) is to integrate information technology with business management. The program is designed to provide students with a strong educational foundation thereby preparing them as Information Systems (IS) professionals. MS-CIS consists of a specifically designed curriculum that emphasizes conceptual, analytical, technical and interpersonal skills.
The MS-CIS program blends theory and practice into a learning experience the develops skills applicable to complex real-world problems. It is designed to give students a thorough knowledge of the field and to provide an enduring foundation for future professional growth. To be successful in the increasingly competitive global marketplace, most corporations are looking for employees that have comprehensive knowledge and training on aligning business management and the information systems function in ways consistent with organizational ethical principles. MS-CIS delivers exactly that.
The CIS Department is housed in the College of Business and Public Administration (CBA) and has a mission that mirrors the aspirations of the business community.
The MS-CIS curriculum is designed to accommodate both individuals holding undergraduate-information-systems-related degrees and other professionals who may have baccalaureate degrees.
---
Learning Goals & Objectives
Ethics: The student will demonstrate an understanding of the importance of ethics and its application in the decision-making process.
Objective: The student is able to differentiate between what is ethical and what is unethical.
Communication: The student is able to apply effective communication skills in a professional environment.
Oral Communication Objective: The student is able to prepare and deliver an effective business presentation.
Written Communication Objective: The student is able to produce well-written documents.
Technology: The student is able to demonstrate technical proficiency and to manage information technology projects to develop information systems that support an organization's needs.
Objective A: The student is able to apply methodologies to develop a system that supports an organizations' needs.
Objective B: The student is able to understand project management skills in support of the organization's needs.
All students admitted into the program are assigned to a primary graduate program advisor. The graduate program advisor provides counseling about prerequisite courses, foundation courses, and core course scheduling. Students also have access to other faculty members as secondary advisors. All students with non-business-related degrees are required to complete a minimum of five undergraduate business foundation courses. Prerequisites and foundation courses can be completed at SUNO or elsewhere.
In order to accommodate working students, classes are scheduled in the evening, weekends and online. The MIS-CIS Program is a commuter-friendly program because all classes meet only once a week.
---
Specific Requirements
Applicants must submit either the GRE or the GMAT test scores for evaluation. For admission into the MS-CIS Program, all applicants must provide the following: an acceptable GRE score (in some cases, a high GRE may be used to compensate for a low GPA) or an acceptable GMAT score. In addition, students need to provide a personal statement, three recommendation letters, and transcripts of previous coursework. Students in the MS-CIS will be expected to complete 39 hours of CIS coursework for graduation if business foundational courses are not required.
Foundation courses are for students who do not have at least 15 credit hours of core business courses in their earned undergraduate or graduate degrees. All classes in the MS-CIS Program require students to have a basic understanding of business processes. For example, students enrolled in the Systems Analysis course are expected to have some knowledge of a payroll system when they are asked to perform an analysis and design of an updated system. Similarly, students enrolled in the Database Management course are expected to have some knowledge of supply chain systems when they are asked to develop the logical as well as a physical schema to capture the needed data. All MS-CIS students should, therefore, have a working knowledge of the materials contained in the following set of business courses required for undergraduate CIS majors:
---
Foundation Courses
ACCT 201 Principles of Financial Accounting
BADM 301 Principles of Finance
MGNT 362 Principles of Management
MKTG 370 Principles of Marketing
CISP 426 Applications of Object-Oriented Technology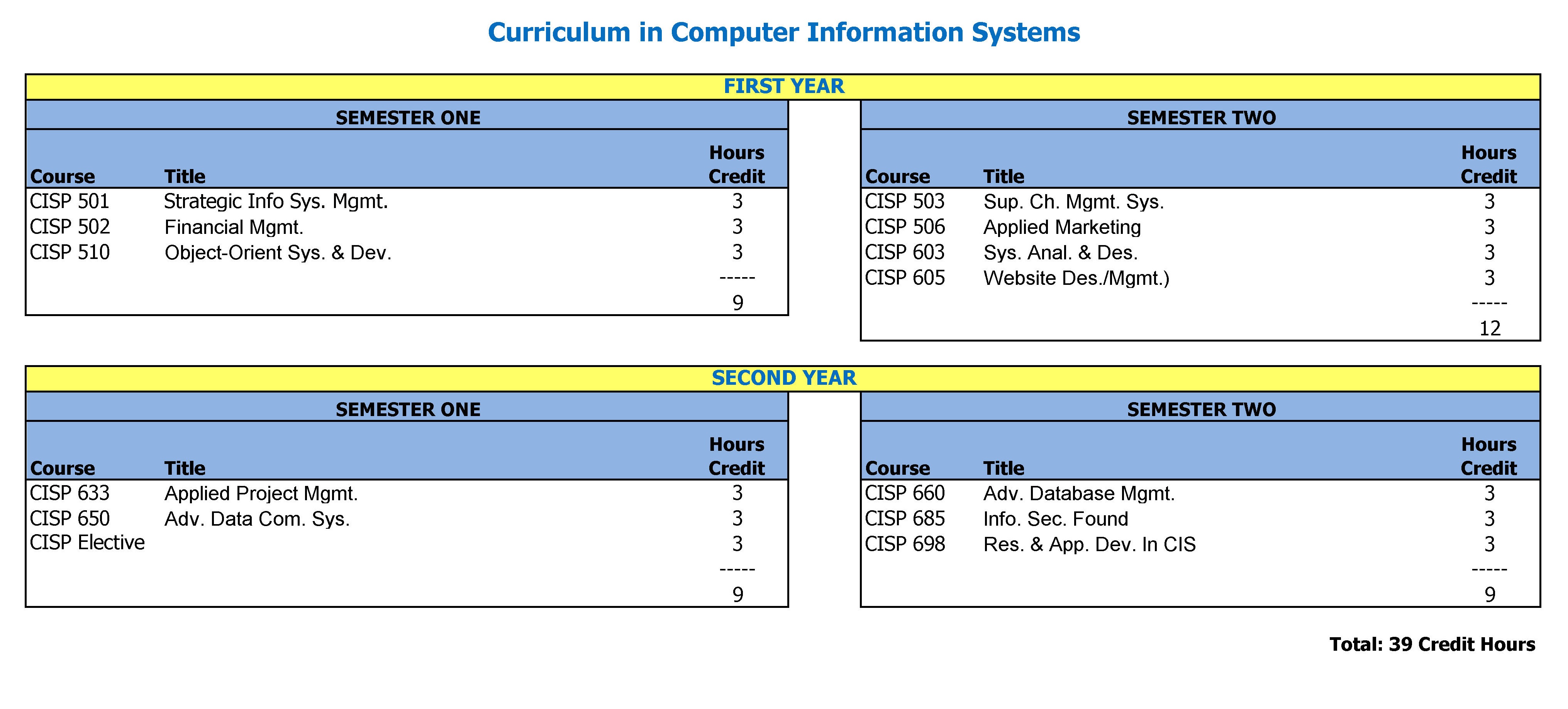 ---
Staff
Ghasem (David) Alijani, Department Chair & Professor
Ph.D., Wayne State University
Office: CBA 110
Phone: 504-286-5142
Fax: 504-286-5304
E-mail: dalijani@suno.edu
Teaching Areas: E-Commerce, Supply Chain, System Analysis, Web Design, Database Management Systems, Network Communication, and Security
Research Interests: Integrated Information Systems Design, E-Medicine, Decision-Support Systems, E-Commerce, Adaptive Resource Management, Real-Time Systems, and Critical Missions
Nabie Y. Conteh, Assistant Professor
Ph.D., University of Maryland, Baltimore County
Office: CBA 108
Phone: 504-286-5319
Fax: 504-286-5304
E-mail: nconteh@suno.edu
Teaching areas: Strategic Management Information Systems, E-Commerce, and Web Design, Data Structures and Algorithm Design, System Analysis and Design, Decision Support Systems, Web Design and Introduction to Information Systems
Research Interests: E-Commerce and Web Design, Foundations of Information Systems, Cyberspace and Cybersecurity, Knowledge Management and Organizational Learning, Decision Support Systems, Systems Modeling and Simulation, Systems Analysis and Design
Samuel O. Eweni, Assistant Professor
Ph.D., Southern University and A&M College
Office: CBA 208
Phone:504-286-5170
Fax: 504-286-5304
E-mail: seweni@suno.edu
Teaching areas: Introduction to Information Systems, Management Information Systems, E-Business, Data Communications, and Network Security Management
Research Interests: E-Learning, E-Business, Electronic Commerce, Computer Security
Obyung Kwun, Associate Professor
Ph.D., University of Mississippi
Office: CBA 204
Phone: 504-286-5137
Fax: 504-286-5304
E-mail: okwun@suno.edu
Teaching Areas: Systems Analysis, Project Management, Database, E-Commerce, Programming and Management Information Systems
Research Interest: Systems Development, E-Learning, and E-Commerce
Yanjun Yu, Assistant Professor
Ph.D., Washington State University
Office: CBA 206
Phone: 504-286-5169
Fax: 504-286-5304
E-mail: yyu@suno.edu
Teaching areas: Introduction to Information Systems, Microsoft Applications, Fundamentals of Information Systems, Data Communications, and Networking Security Management
Research Interests: Global Software Outsourcing, Communications, Cross-Cultural Study, Virtual Teams, Knowledge Management, Electronic Commerce, and Mobile Commerce.
---
COMPUTER INFORMATION SYSTEMS COURSE DESCRIPTIONS
GRADUATE LEVEL
CISP 501 Strategic Information Systems Management 3 Credit hours
This course examines the value of computer-based information systems in enabling organizations to achieve competitive advantage, increase their operational efficiency, and make effective decisions. It explores information systems' relationships with and effects on organizational strategies. It examines tools for developing and evaluating information systems strategies for their alignment with and contributions to organizational strategies. It also stresses considerations of business ethics in the strategic application of information systems. Students learn and apply concepts introduced in the course through multiple methods including case studies; use of advanced software applications for analyzing and solving business problems; and group projects.
CISP 502 Financial Management 3 Credit hours
The growth of information technology has changed the nature of economics and financial practices by impacting on the collection and analysis of data. The course explores the role of information technology using cases, real-world data, and Spreadsheet technology that can make economics and financial analyses more effective, transparent and relevant. The course in this context evaluates the electronic business models available for e-commerce ventures using an amalgam of topics from financial management and microeconomics. (Prerequisites: ACCT 201 & BADM 301 or Equivalent)
CISP 503 Supply Chain Management Systems 3 Credit hours
This course explores the concepts of logistics and supply chain management systems for efficient cross-functional linkage within the organization and the supply chain partners. Topics include inventory management, transportation management, project management, supply chain information system such as electronic data interchange and radio frequency identification, forecasting, supply chain economics, supply chain finance, supplier selection, and supply chain performance measurement. (Prerequisite: MGMT 362 or Equivalent)
CISP 506 Applied Marketing 3 Credit hours
This course focuses on the study and development of marketing tools for competing effectively in the Internet economy, including marketing issues that managers must address as they consider how to develop successful commercial strategies on the web and other emerging electronic media. It views the Web as a channel of information distribution, and increases understanding of the nature of the Internet, its culture, and issues related to information flow, trust, and privacy. Topics include using database applications in marketing research (both qualitative and quantitative), consumer behavior, customer service, advertising, positioning, and Web economics. Teaching methods include class lecture, readings, case studies, on-line activities, and a Web-based marketing project. (Prerequisite MKTG 370 or Equivalent)
CISP 510 Object-Oriented System Design & Development 3 Credit hours
This course is designed to provide knowledge and skills required for the design and implementation of object-oriented information systems. The course examines and applies recent object-oriented methodologies including models, techniques, and tools to support system development process. It shows applications of object-oriented methodology in different areas such as database management and information security systems. Students are able to apply object-oriented tools such as C++ and JAVA to develop individual and group projects. (Prerequisite CISP 426)
CISP 603 System Analysis and Design 3 Credit hours
This course provides some analysis of the System Development Life Cycle (SDLC). Emphasis is placed on the tools and techniques that a project leader, systems analyst, and programmer would use to design and document an information system. The course will also emphasize the importance of various skills, which the systems analyst should possess, including: communication, problem solving and project management. Team oriented projects are utilized to aid in understanding how systems concepts are developed in the business world.
CISP 604 Electronic Commerce 3 Credit hours
This course examines the current business practices in electronic commerce. It focuses on e-commerce foundations and e-business infrastructure and strategies using database applications. It examines extended relationships between e-commerce and other applications including e-procurement, e-marketing, and supply chain management. Further studies include ethical issues and global trends.
CISP 605 Web Site Design and Management 3 Credit hours
This course examines the design and management of Web sites for electronic business applications. Topics include Web sites planning, design, implementation, and evaluation. It looks at the principles and elements of effective Web sites as a practical business communication tool. Through the individual and group projects, students have opportunities to develop and manage Web sites using languages such as CSS, XHTML, and Java Script. Projects are evaluate bases on their design, content, application and effectiveness.
CISP 633 Applied Project Management 3 Credit hours
This course provides understanding of project management techniques for planning and controlling schedule, costs, and quality in information technology design, development, and implementation projects. It emphasizes integration of strategies into project selection and management, risk management and assessment in the project management process, and use of project management software.
CISP 650 Advanced Data Communication Systems 3 Credit hours
This course focuses on fundamentals and principles of telecommunication and networking systems and their applications in the real-world. It examines the technical and managerial aspects of networking as an essential tool of any organization's functionality. Students will study and analyze the technological as well as managerial aspects of telecommunication through the evaluation of different network configurations, models and protocols.
CISP 660 Database Management 3 Credit hours
This course provides knowledge and skills on database management systems including principles, methodologies, and applications. It examines different database systems while focusing on relational databases. Through individual and group projects and use of application tools, such as Access and SQL, students are able to specify, design, and implement databases that support small-scale business operations. Testing and performance evaluation are done through interaction with the database using user interfaces and queries analyses.
CISP 671 Business Intelligence 3 Credit hours
This course examines decision support systems, intelligent systems, and database management tools for managerial decision-making. Topics include a study of the foundations of computerized support for problem identification, decision support systems, collaborative systems, expert systems, and advances intelligent support for decision making. Developing an understanding of various issues and the selection of appropriate systems for each situation are emphasized throughout the course.
Effective written and oral communication presentations are stressed. Teaching methods include class lecture, case studies and research projects.
CISP 685 Information Security Foundations 3 Credit hours
This course examines the basic principles and concepts in information security and integrity. It provides students with knowledge that enables them to identify issues related to control and security of information systems. It examines the technical, operational, and organizational issues in assuring confidentiality, integrity, and availability using object-oriented tools. Topics include malicious code, cryptography, security risk management, and security procedures, policies, and ethical issues.
CISP 698 Research and Application Development 3 Credit hours
This course introduces students to research methods and provides an opportunity for students to develop individual problem-solving applications. The research methods component provides a solid foundation for conducting literature reviews, identifying problems, developing applications, and reporting findings. Students will develop applications in their area of interest based on current technology trends. (Prerequisite: CISP 510)