Computer Information Systems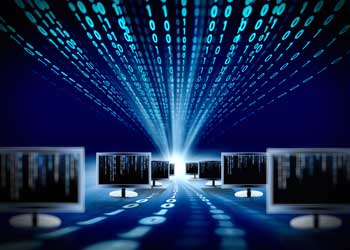 Programs
The Computer Information Systems Department provides a degree that equips the student body with knowledge and skills essential for careers in business and government, or for pursuing further studies. The program provides students with a foundation in the dual functional areas of business and computing technologies, thus enabling graduates to pursue both technical and managerial careers in all types of organizations, both public and private.
Goals
Student is able to demonstrate an understanding of the importance of business ethics and its application in the decision making process.
Student is able to differentiate between what is ethical and what is unethical.
Student is able to identify ethical principles and codes.
Student is able to apply effective communication skills in a professional environment.
Student is able to prepare and deliver an effective presentation.
Student is able to produce well written documents.
Student is able to demonstrate ability to analyze and solve problems in an organizational setting.
Student is able to apply discipline-based principles in addressing organizational problems.
Student is able to understand the importance of technology and its application in organizations.
Student is able to understand available technology.
Student is able to use available technological tools in various tasks.
Student is able to provide technical solutions to business problems.
Student is able to identify and analyze specific business problems.
Student is able to offer appropriate solutions to specific business problems.
Graduation
Each student must satisfy the following requirements to graduate with a Bachelor of Science degree from the College:
Complete an approved program of study in the College with a cumulative grade point average of 2.0 or higher.
Except as noted below, complete each course taken in the College with a grade of C or higher. A grade of D will be accepted for a maximum of one non-major business course taken in the College.
Complete 60 hours of volunteer/community service.
Pass an Exit Examination in the student's major field of study.
Satisfy all University requirements.
FAQs
What is CIS?
The Computer Information Systems program is an interdisciplinary program designed to give you the skills in information technologies to prepare you for careers in such fields as information management, systems analysis, information brokerage, competitive intelligence and database development. The program emphasizes the human context of current and future technology.
What is the average time of completion?
The average time of completion is 4 years for a full time student, depending on your scheduling needs. For a non full time student it may take longer.
What types of jobs can a CIS graduate get?
An CIS graduate can look forward to employment in such fields as Organization and Management of Information; Internet and Network Services; Systems Analysis; Information Retrieval; Information Brokerage. You can hold positions like Web site designer, Database Administrator, Information Researcher or Intelligence Analyst. People who can fill these positions are in high demand, and CIS graduates are doing well in the job market.
What is the difference in job opportunities for Computer Sciences and CIS Majors?
Both majors have excellent career opportunities. Most students who work with their respective placement centers have job offers before they graduate. CIS majors have the highest average salary offers of any business majors (over $50,000) and the Computer Science average is even higher. CIS majors are most likely to go into positions in information services for companies or consulting, while Computer Science majors are most likely to go into manufacturing support systems and product development for computer companies. Over 60% of the CIS majors each year accept offers with consulting firms, a much rarer starting position for Computer Science majors. Retailers, insurance, and communications firms also hire CIS majors through the Career Services office.
What is the course work in CIS majors?
CIS majors must take 30 hours of business courses in addition to the minimum of 36 hours of CIS courses. The college requires 54 hours of general education, totaling to 120 hours. Almost all CIS classes require significant group projects. Project management and people issues are emphasized in the CIS courses.
Do I need to be good in math?
No, but you need to handle complex issues and ambiguity well. Information systems are frequently complex solutions to messy organizational problems, so your effectiveness with other people is critical.
What are the best electives for CIS majors?
Some recruiters want to see many Computer Science and CIS hours on your resume, but others want to see extracurricular activities that show leadership and personal skills. See Suggested Electives, CIS Electives and Communication Skills.
What is the outlook for the Information Science field?
Information is fast becoming a central resource in many enterprises. There is a real need for professionals who can create, organize and effectively manage information that people want. According to government projections, five of the twenty fastest-growing professions are information- intensive and depend heavily upon information technologies.
I am a transfer student and I have taken courses at another university equivalent to those offered by the CIS Department, do I still have to take these courses?
If you have taken courses at another university and believe that they are equivalent to those in your new program you can complete a CIS substitution Form. You have to discuss this with your new advisor.
How do I register for or change my classes?
Each CIS student is assigned an advisor based on their last names. Each semester, you'll get friendly and knowledgeable advice on choosing your major, course selection, and graduation requirements.
What do I do if a course I need is closed?
Sometimes courses become full and as a result are closed prohibiting any more students to register. If this happens, the CIS Department offers a Waiting Lis
Staff
Ghasem (David) Alijani
Chair/Professor
Ph.D., Wayne State University
Lake Campus CBA 205
Phone: 504.286.5423
Fax: 504.286.5304
Email: dalijani@suno.edu
Teaching Areas: E-Commerce, Supply Chain, System Analysis, Web Design, Database Management Systems, Network Communication and Security
Research Interests: Integrated Information Systems Design, E-medicine, Decision-Support Systems, E-commerce, Adaptive Resource Management, Real-time Systems and Critical Missions
Nabie Y. Conteh
Assistant Professor
Ph.D., University of Maryland, Baltimore County
Lake Campus CBA 108
Phone: 504-286-5319
Fax: 504-286-5304
E-mail: nconteh@suno.edu
Teaching areas: Strategic Management Information Systems, E-Commerce and Web Design, Data Structures and Algorithm Design, System Analysis and Design, Decision Support Systems, Web Design and Introduction to Information Systems
Research Interests: E-Commerce and Web Design, Foundations of Information Systems, Cyberspace and Cybersecurity, Knowledge Management and Organizational Learning, Decision Support Systems, Systems Modeling and Simulation, Systems Analysis and Design
Robert A. Elliott Sr.
Assistant Professor
Ph.D., Mississippi State University
Lake Campus CBA 206
Phone: 504-286-5137
Fax: 504-286-5304
E-mail: relliott@suno.edu
Teaching areas: Web Design, Computer Applications, Project Management, Computer Programming
Research Interests: Ontology Engineering, Software Engineering, Requirements Engineering, Systems Analysis, Software Metrics, Software Architecture, Distributed System Design
Samuel O. Eweni
Assistant Professor
Ph.D., Southern University and A&M College
Lake Campus CBA 208
Phone: 504-286-5170
Fax: 504-286-5304
E-mail: seweni@suno.edu
Teaching areas: Introduction to Information Systems, Management Information Systems, E-Business, Data Communications, and Network Security Management
Research interests: E-Learning, E-Business, Electronic Commerce, Computer Security
Obyung Kwun
Associate Professor
Ph.D., University of Mississippi
Lake Campus CBA 204
Phone: 504.286.5137
Fax: 504.286.5304
E-mail: okwun@suno.edu
Teaching Areas: Systems Analysis, Project Management, Database, E-Commerce, Programming and Management Information Systems
Research Interests: Systems Development, E-learning and E-commerce
Muhammed Miah
Associate Professor
Ph.D., University of Texas at Arlington
Lake Campus CBA 207
Phone: 504.286.5144
Fax: 504.286.5304
E-mail: mmiah@suno.edu
Teaching Areas: Database Systems, Data Mining, Information Systems, Programming and Algorithms
Research Interests: Database Systems, Data Mining, Information Retrieval, E-commerce, E-business, Bioinformatics and Technology Changes
Yanjun Yu
Assistant Professor
Ph.D., Washington State University
Lake Campus CBA 206
Phone: 504.286.5169
Fax: 504.286.5304
E-mail: yyu@suno.edu
Teaching Areas: Introduction to Information Systems, Microsoft Applications, Fundamentals of Information Systems, Data Communications and Networking Security Management
Research Interests: Global Software Outsourcing, Communications, Cross-Cultural Study, Virtual Teams, Knowledge Management, Electronic Commerce and Mobile Commerce