Public Administration
The B.A. Public Administration program provides education and a bachelor's degree in public administration that equips students with administrative knowledge and skills essential for careers in government and non-profit organizations or further studies.
---
Goals
Ethics Goal: Student will demonstrate an understanding of the importance of ethics and its application in the decision-making process.
Communication Goal: Student is able to apply effective communication skills in a professional environment.
Analysis Goal: Student is able to analyze and solve problems in an organizational setting.
Technology Goal: Student is able to understand the importance of technology in organizations.
Program Specific Goal: At the end the program student will (1) demonstrate an understanding of the mechanics of government; (2) demonstrate an understanding of tools used for assessing the efficient use of public resources; and (3) demonstrate an understanding of the elements of public sector employee conduct and administrative processes.
Graduation
Each student must satisfy the following requirements to graduate with a Bachelor of Arts degree in Public Administration:
Complete an approved program of study in the College with a cumulative grade point average of 2.0 or higher.
Except as noted below, complete each course taken in the College with a grade of C or higher. A grade of D will be accepted for a maximum of one non-Public Administration course taken in the College.
Complete 60 hours of volunteer/community service.
Pass an Exit Examination in the student's major field of study.
Satisfy all University requirements.
FAQ
Why should I major in Public Administration? The Public Administration degree program is an applied social science program. It is suited for people interested in public service through work in government and non-profit organizations. The Public Administration degree prepares students for careers in city, parish, state, and the federal government by teaching them how to work with communities in identifying needs, assessing the effects of services, recommending changes, raising funds, and managing the budget. The Public Administration graduate could be the link between unions and management, in contract development, and in grievance resolution. The student will mix the theoretical with skills in management, policy and politics that will be useful in a wide variety of jobs. Unlike business, there is more emphasis on critical thinking and writing skills and less on quantitative skills. The Public Administration degree is of most value to those who intend to work in the public and non-profit sectors.
What are the differences between those working in the public and private sectors?
Those who work in the public sector tend to do so out of public service motivation (genuine desire to do good in the world). Private sector employees tend to have higher wages but public sector and non-profit organizations employees tend to have more job security and better benefits. Studies indicate that job satisfaction is highly correlated with doing meaningful work, and both the pubic and nonprofit sectors appeal to those who want to help others and improve their communities.
What advantages does a Public Administration major have over other majors?
While the Public Administration program has its roots firmly in the liberal arts, it is more job-oriented than most liberal arts majors, with more content that will be useful to the student in future jobs. All Public Administration majors are required to enroll in the Public Service Internship class (PADM 425) near the end of their degree programs. This hands-on experience will help them better understand their field of study and its workforce opportunities. The Public Administration curriculum is quite versatile and provides the student with the theory and skills to make a difference in their community.
What is the range of salaries in the public sector?
A 2016 study by the U.S. Department of Labor's Bureau of Labor Statistics reported an average salary range of $32,000-$110,000 for public sector professionals.
(References: http://hss.fullerton.edu/paj/PublicAdministration/faq_pa.aspx; https://www.bls.gov/oes/current/oes273031.htm)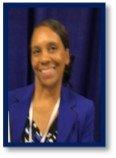 Dr. Patricia B. Robertson
Associate Professor
Office:
College of Business and Public Administration, Room 212
Lake Campus

Phone: 504-286-5333
Fax: 504-286-5304
Email: probertson@suno.edu

Teaching Areas:
Public Administration, Organizational Behavior, Public Finance

Research Interests:
Equity in Public Education and Health


Shelina Aubrey-Gethers, B.S.
Administrative Assistant IV
Office:
College of Business and Public Administration, Room 211
Lake Campus

Phone: 504-286-5331
Fax: 504-286-5304
Email: sgethers@suno.edu