Community Engagement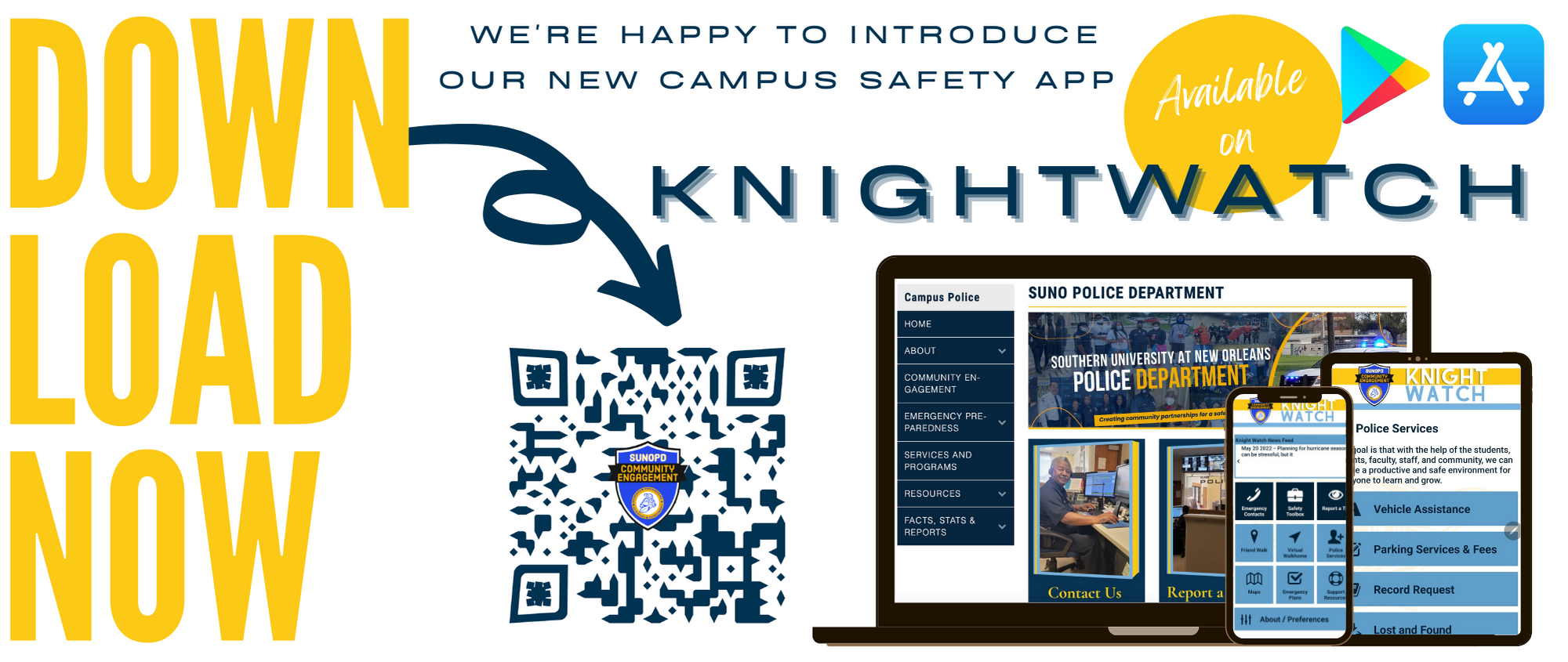 The Southern University at New Orleans Police Department is a fully functioning police department consisting of sworn police officers and civilian staff who are all committed to serving with professionalism and pride.
It is the guiding principle of the Southern University at New Orleans Police Department to develop and sustain proactive community crime prevention programs. The Department cultivates close ties with and responds to the needs of the community in a courteous and professional manner.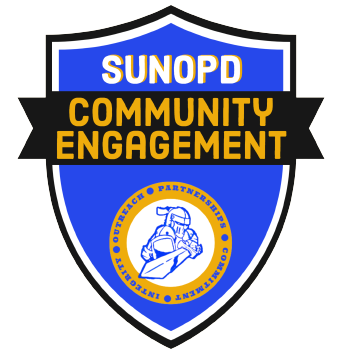 The Department also takes steps to address practices, actions, or attitudes that may contribute to community tensions and grievances.
Our commitment to serve is our top priority! That is why it is also the mission of SUNOPD to provide a vow of transparency to all of our community members and stakeholders. Through transparency, we can work together to fulfill the mission and establish significant and lasting bonds that will ensure its operation for future generations. We also commit to establishing lasting imprints on those we serve through our response guarantee "First Impressions Matter" Guarantee. The importance of a first impression, through positive experiences, is monumental to our commitment to serve and to the furtherance of our mission statement and helps to build long-lasting relationships with our community members and stakeholders.

The SUNOPD has a team of officers dedicated to community engagement and crime prevention that coordinates numerous safety awareness programs for the campus community, specifically to encourage students and employees to be responsible for their own safety and the safety of others. Serving our community through programs and department initiatives provides our staff with an abundance of resources. The Community Engagement Unit may distribute throughout the SUNO campus printed materials and electronic notices promoting personal safety and alerting people to specific crimes or problems.
Safety Presentations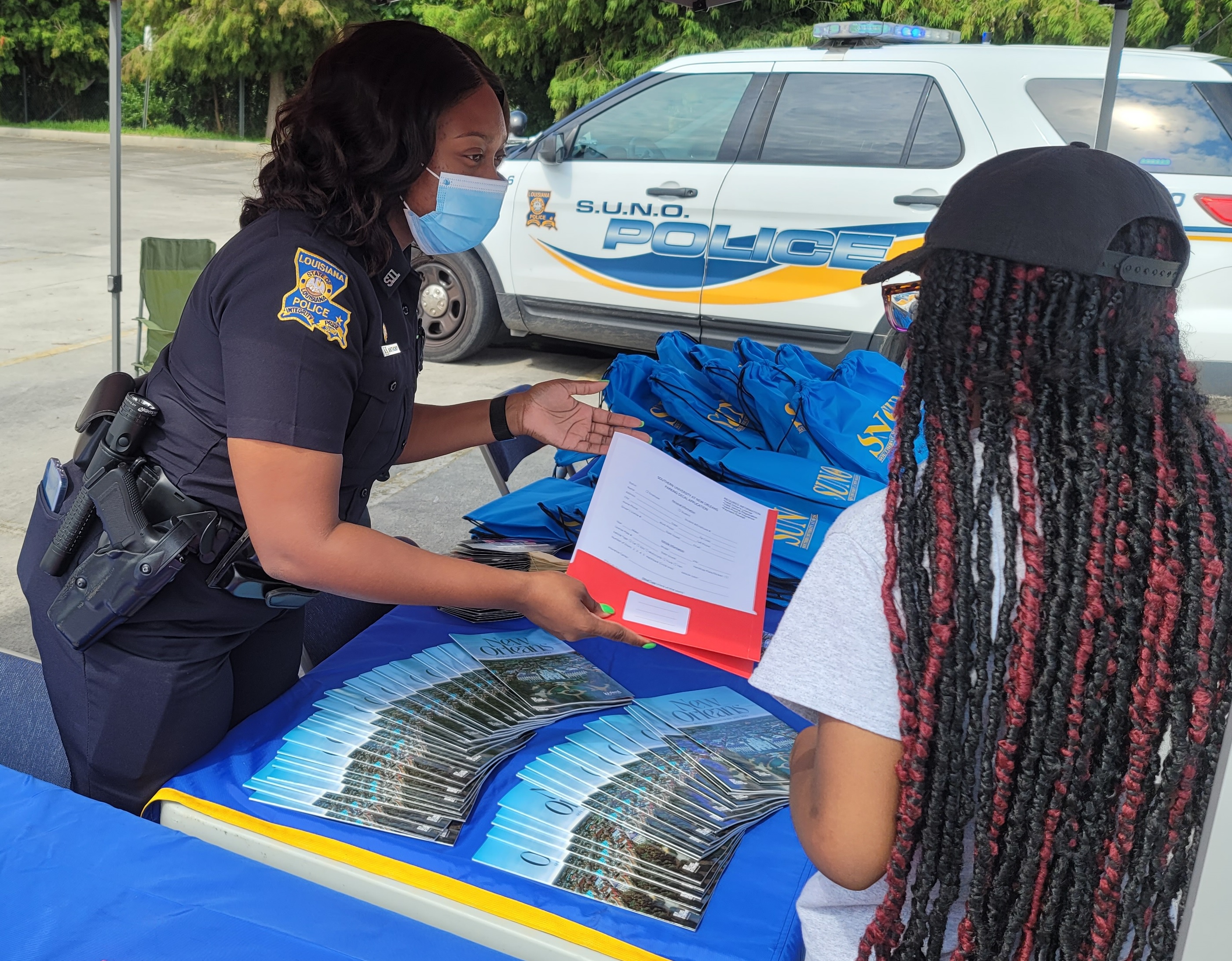 The Community Engagement Unit provides informative safety presentations to all members of the SUNO community. The presentations range in time from 50 minutes to 80 minutes and can be modified to address a specific topic. Some of the most popular presentations we have done are "Surviving an Active Shooter Event", "SUNO Police Services", "Crime Prevention and Awareness", and "Identity Theft".
Presentations are conducted year-round upon request. To request a presentation please send us an email.
Education
Campus safety educational program is one of the essential ingredients of any successful crime prevention program. The Community Engagement Unit provides programs on various topics and speaks at public events regarding crime prevention, or other topics as requested.
Campus Surveys
To facilitate the enforcement of parking regulations and to ensure the safety of students and staff, the Community Engagement Unit surveys parking lot surfaces for damage and for clarity of painted parking indicators. Additionally, the Unit surveys the exterior lighting on campus monthly and report all lighting concerns to Facilities Management for repair.
Daily Patrol
SUNOPD patrols the campus by foot, bicycle, and vehicle. Uniformed patrol provides a visual deterrent to potential thieves and also provides high visibility to the public in general, should contact be desired.
The following safety awareness and crime prevention programs are provided by the Community Engagement Unit:
Knight Watch
Driver's Safety
Crime Prevention & Safety Training Class
Alcohol & Drug Awareness Class