Active Shooter

From a preparedness mindset, the SUNO Police Department strives to educate our community in a wide range of issues that have the potential to affect our campus, including active shooter incidents.
For your personal safety, SUNO Police and the University Administration wants to remind everyone about the emergency procedures in place to keep this campus safe. In case of a campus emergency:
SUNO Police, the University's first responder, is notified by dialing 504-286-3355 or 911.
There are "blue light" terminals located at strategic points across campus. These terminals can summon SUNO Police immediately. The "blue light" locations are displayed on the campus map inside "SUNO Mobile," the new mobile app is available in the App Store.


The SUNO Alert System, powered by Regroup, will send critical information via text, e-mail or phone to students, faculty and staff in case of an emergency. Please take the time to sign up or update your contact information by sending an e-mail from your SUNO account to service@suno.edu. In your e-mail, please include your personal e-mail address and cell phone numbers.


The University also has the capability to call every desk phone on campus in the event of an emergency to provide precise instructions.


In addition, SUNO Police is available to escorts students, faculty or staff to their cars after dark. Please call 504-286-5290 to request an escort.
---
HOW TO RESPOND WHEN AN
ACTIVE

SHOOTER

IS IN YOUR VICINITY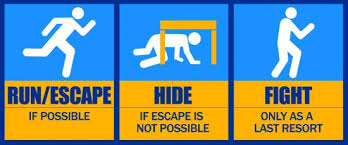 Evacuate (Run). If there is an accessible escape path, attempt to evacuate the premises. Be sure to:
Have an escape route and plan in mind
Evacuate regardless of whether others agree to follow
Leave your belongings behind
Help others escape, if possible
Prevent individuals from entering an area where the

active

shooter

may be
Keep your hands visible
Follow the instructions of any police of?cers
Do not attempt to move wounded people
Call 911 when you are safe
Hide out (Hide). If evacuation is not possible, ?nd a place to hide where the active shooter is less likely to ?nd you. Your hiding place should:
Be out of the

active

shooter

's view
Provide protection if shots are ?red in your direction (i.e., an of?ce with a closed and locked door)
Not trap you or restrict your options for movement
To prevent an active shooter from entering your hiding place:
a. Lock the door
b. Blockade the door with heavy furniture
If the active shooter is nearby:
a. Lock the door
b. Silence your cell phone and/or pager
c. Turn off any source of noise (i.e., radios, televisions)
d. Hide behind large items (i.e., cabinets, desks)
e. Remain quiet
If evacuation and hiding out are not possible:
a. Remain calm
b. Dial 911, if possible, to alert police to the active shooter's location
c. If you cannot speak, leave the line open and allow the dispatcher to listen
Take action (Fight) against the

active

shooter

As a last resort, and only when your life is in imminent danger, attempt to disrupt and/or incapacitate the active shooter by:
Acting as aggressively as possible against him/her
Throwing items and improvising weapons
Yelling
Committing to your actions
To prevent panic and better prepare yourself in the event of an active shooter incident within your immediate vicinity/building, watch the video below and remember these three words: RUN. HIDE. FIGHT. The SUNO Police Department would like to thank the Department of Homeland Security for producing the video and allowing us to make it accessible to the SUNO Community. The resources below provide information on response considerations should someone encounter this type of situation on or off campus.
---