Alumni Knights Homecoming: Save The Date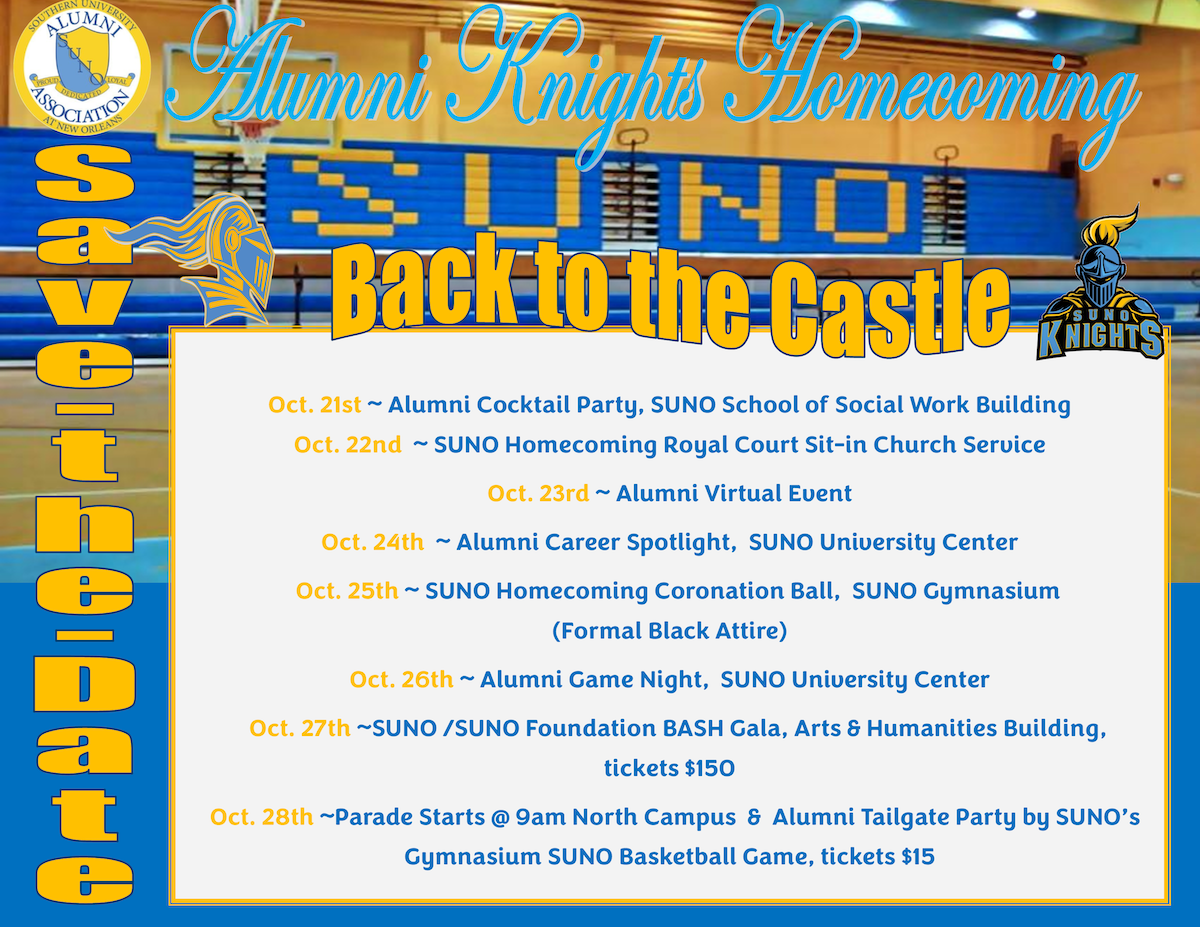 2023 SUNO ALUMNI HOMECOMING FESTIVITIES
Southern University at New Orleans' Alumni Association is pleased to announce that we are "coming home" for the 2023 SUNO Homecoming. We are returning to the Castle on Oct. 21st to Oct. 28th.
The Southern University at New Orleans' Alumni Association endorsed this event to reunite fellow classmates, meet new alums and engage with future alums.
IT IS TIME to join the Alumni Association for the 2023 Homecoming, fellow Knights. Please RSVP to reserve your spot for each event. All events, except the Annual BASH and the basketball game, are FREE.
---
Cocktail Social,
Oct. 21st, at Southern University at New Orleans in the Mille M. Charles School of Social Work Building at 7 pm.
Join the Executive Officers to kick off Alumni Homecoming with good conversation, food, music, dancing, and libation.
---
Sit-in Church Services,
Oct. 22nd, with Miss SUNO and her Royal Court at Come Into the Light Ministries (Pastor Anthony Taplin, Sr.) for 9 am at Southern University at New Orleans Lake Campus in the School of Social Work Building.
Alums will join the Sit-In Church Service with the 2022 Queen, Miss Ciara G. Perique, her Royal Court, and the student body. Praise and worship are open to everyone.
---
Alumni Virtual,
Oct 23rd, is the virtual event for our out-of-town alums. Join the virtual call and engage in a night of virtual fun at 6 pm. Use the form link to RSVP.
---
Alumni Career Spotlight,
Oct 24th, in the SUNO University Center at 11 am.
The Career spotlight is an open forum for Alumni to share their career journey with SUNO students. If you would like to be a panelist, please email Lakeisha Ricks at lakewilson424@hotmail.com.
---
Homecoming Coronation Ball,
Oct 25th, in SUNO Gymnasium at 6:30 pm.
Southern University at New Orleans is hosting the Homecoming Coronation "Unleash the Knight" Ball. The Alumni Association will join the SUNO family to celebrate with the 2023 Homecoming Court. The attire is formal (Ladies' long gown and Gentlemen's black suit). Miss 64th SUNO Queen, Ciara G. Perique, requests everyone to wear formal attire. IT's FREE!!!
---
Alumni Game Night,
Oct 26th, in the University Center for 6 pm.
Join us for a "Knight" of Food and Fun and engagement in trivia, board games, bowling, card games, and more! Remember to bring socks if you plan to bowl.
---
Annual BASH Gala,
Oct. 27th, in the Arts & Humanities Building at 7 pm.
The Emmett Bashful, Southern Knights in New Orleans Scholarship Gala & Silent Auction. BASH tickets cost $150 per person or a table for $1,500. Purchase your ticket by calling Dr. Kim Rugon's office at (504) 286-5342 or the link https://ticketscandy.com/e/emmet-bashful-scholarship-gala-2023-2545 The BASH Committee will honor one Lifetime Achievement Recipient and an Alumni Trailblazer Recipient.
---
Parade/Tailgate Party/Basketball Homecoming Game,
Oct. 28th. The Parade starts at 9am leaving from Lake Campus and tailgate starts at 11 am at SUNO's Gymnasium.
Come out and cheer on our Knights Basketball and Volleyball Teams team to victory—Triple Headers Game (Lady Knights and Men Knights Basketballs and women Volleyball Teams). SUNO Game starts at 3 pm. Game tickets: $15, Students ages 13 to 18 (high school) $5 with ID, SUNO Students Free with ID, and children under 12 Free.
---
Make sure to complete your RSVP for the Alumni Homecoming Week by using the link: https://forms.gle/ThoBii3219La2BDQ8.
If you have any questions, please do not hesitate to contact us by email SUNOAA1959@gmail.com.
You can like and follow us on our Facebook page: Southern University at New Orleans Alumni Association for updates.
We are looking forward to seeing our fellow Alumni during Homecoming week.