Alumni Relations
Welcome to the alumni website for Southern University at New Orleans (SUNO)! As a graduate of this esteemed institution, you are part of a proud and accomplished community that has helped shape the history of the university and the city of New Orleans.
---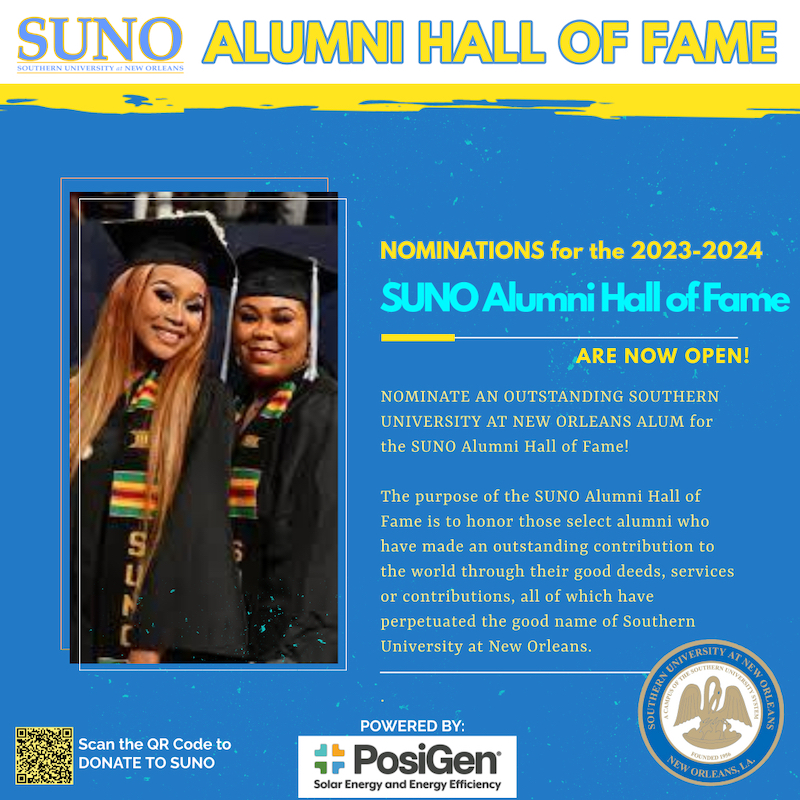 ---
SUNO was founded in 1956 as a public historically black university, with a mission to provide higher education opportunities for African American students
in the Gulf Coast region. Over the years, the university has faced many challenges, including limited funding, a shortage of qualified faculty and staff, and the devastation of Hurricane Katrina. However, SUNO has remained resilient, and today continues to provide a quality education to students from all backgrounds.
As an alumnus of SUNO, you are a part of a rich legacy of accomplished graduates who have made significant contributions to their communities and professions. Notable alumni from SUNO include Grammy-winning jazz musician Terence Blanchard, civil rights attorney and activist Tracie Washington, and Louisiana state senator Wesley T. Bishop.
"Thank you, SUNO alumni, for your contributions to our university and your commitment to excellence. You are an inspiration to us all." - James Ammons Jr., Chancellor
We encourage you to stay involved with SUNO and help support the university's mission. There are many ways to get involved, including mentoring current students, volunteering at university events, and contributing to scholarships and other fundraising efforts.
In addition to giving back to the university, staying involved as an alumnus can also benefit you personally and professionally. Networking with fellow alumni can provide valuable connections and opportunities, and staying informed about the university's activities and achievements can help you stay connected to your alma mater.
Our Alumni Relations department serves as a valuable resource for you, and we encourage you to explore its many features, including updates on the latest university news, information on upcoming events, and opportunities to connect with fellow alumni.
Thank you for your continued support of Southern University at New Orleans. Together, we can help ensure that SUNO continues to provide a quality education and a bright future for generations to come.
---