Student Achievement
The Southern Association of Colleges and Schools – Commission on Colleges (SACSCOC) Policy titled "Institutional Obligations for Public Disclosure" requires institutions to publish statements of their goals for student achievement and the success of students in achieving those goals. In compliance with the Policy and consistent with its Mission, Southern University at New Orleans evaluates student success by examining student achievement in the following nationally recognized higher education good practice measures:
Retention Rates
Graduation Rates
Degree Completion Rates
Performance on Licensure Examinations
Performance on Exit Examinations/Capstones
Career Placement
These measures support the mission of the University which states that "Southern University at New Orleans, a public, historically black university, empowers and promotes the upward mobility of diverse populations of traditional and nontraditional students through quality academic programs and service to achieve excellence in higher education" as they enable the University to continuously focus on improving attributes that ultimately enhance degree completion in a timely manner to facilitate securing gainful employment for service to humanity.
From a University-wide perspective, the Office of Institutional Effectiveness collates data used for evaluating student success. It collects and analyzes data and disseminates results to support informed management, planning, and policy decision for faculty and administration. Primary data sources for reporting student success include the Statewide Student Profile System (SSPS) and the Statewide Completers Systems (SCS) which the University reports annually to the Louisiana Board of Regents (https://regents.la.gov/data-publications/) and the Integrated Post-Secondary Education Data System (IPEDS) (https://nces.ed.gov/ipeds/).
A baseline for each measure was established and effort was made to achieve an annual increase with each measure as best as feasible. IPEDS-verified data for the most recent five years is presented for each measure as applicable.
Retention Rates
First to Second Year Retention (Fall to Fall) of a cohort provides a good prediction of graduation rate outcome for that Cohort. Every intervention measure feasible is applied to achieve maximum First to Second Year Retention. Verified First to Second Year Retention data for the most recent five years is presented in Table 1. The retention rate surpassed the baseline each of the five years.

Graduation Rates
The University operated an Open Admission policy since inception in which a High School G.P.A. of 2.0 was the main admission requirement. The Louisiana Board of Regents mandated the University to adopt a Selective Admission policy, requiring a set minimum ACT or SAT score in Mathematics and English and other criteria, effective Fall 2010. Thus, all Cohorts prior to Fall 2010 were admitted under an Open Admission policy. As Cohorts admitted under Selective Admission reached their 150% level of graduation, i.e. 6 years for baccalaureate programs and 3 years for Associate degree programs, the University has been achieving even higher graduation rates as Table 2 shows (Cohorts 2010 and 2011). The overall graduation rate trend is expected to continue.

Degree Completion Rates
The University strives to increase the percentage of total completers yearly. Table 3 shows a steady increase over the five years reported compared with the baseline.


A breakdown into Associates, Bachelors and Masters Completers is presented in Figure 1.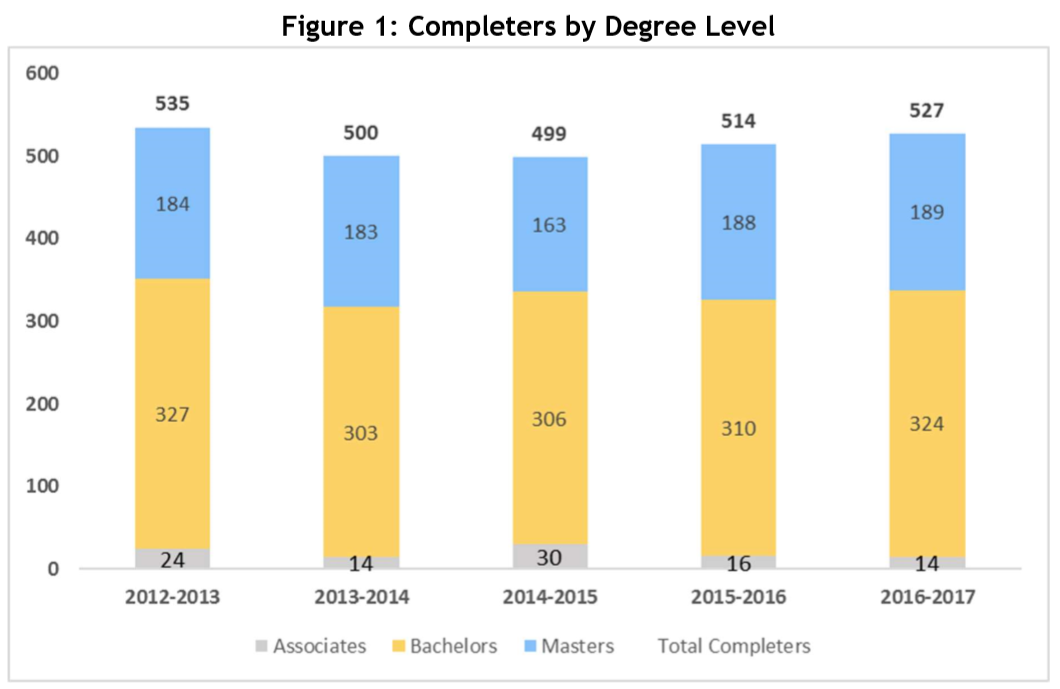 Performance on Licensure Examinations
The licensure examinations applicable to Southern University at New Orleans are the Praxis exams required by the College of Education and Human Development majors and the American Health Information Management Association (AHIMA) Certifications required by the Health Information Management Systems majors. The data is presented in Table 4.

A passage rate of 100% was achieved with the College of Education and Human Development. Health Information Management Systems certification was below the target for the first four years. It was discovered that some graduates who had not participated in a board examination-taking remediation courses took the AHIMA examination on their own and failed. To avoid this situation, the curriculum was revised in 2017 to include a course that specifically prepares students for the board examination. The strategy appears to be effective as a passage rate of 100% was achieved in 2017-2018.
Performance on Exit Examinations/Capstones
Exit examination or Capstone Examination outcome in all degree programs that include this measure in student evaluations are summarized in Table 5. Overall, the passage rate is quite satisfactory, with all courses, except the B.S. Biology, achieving 70% and above. The Biology program allows students to attempt Exit Exams up to a year prior to graduation. Henceforth, Biology majors will be allowed to take the Exit Exam only during the last semester of matriculation, as done in other courses.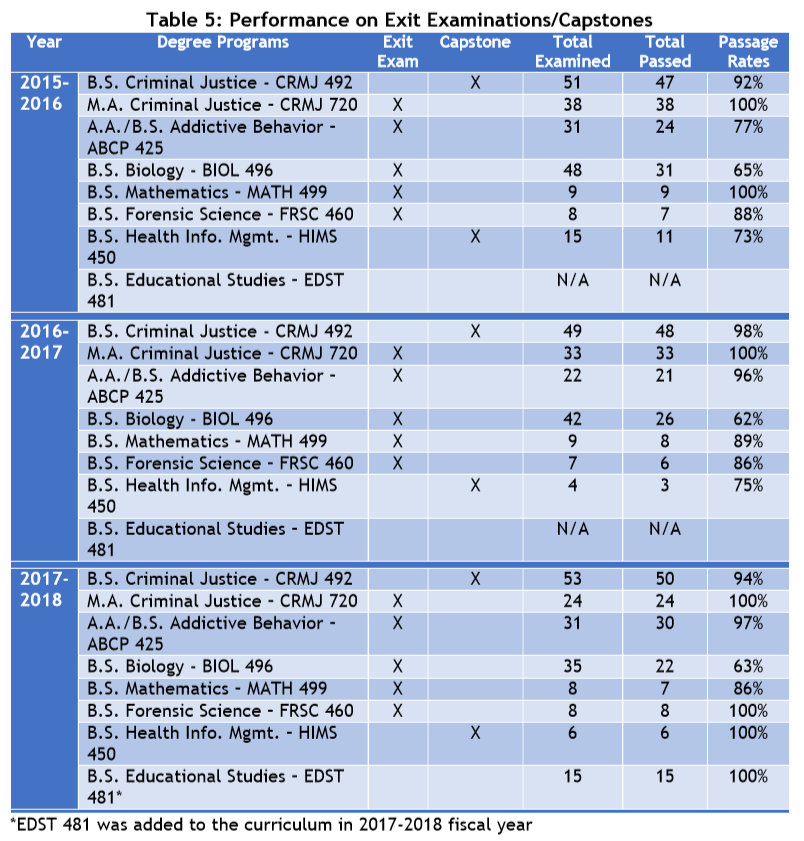 Career Placement Data
Southern University at New Orleans (SUNO) is quite pleased to report that Completers in several programs have been hired in Louisiana and are contributing to improving manpower shortage in the state and nationally. The most current data available on degree Completers alignment with the Louisiana Board of Regents Employment Outcomes Reporting record is presented in Table 6 below.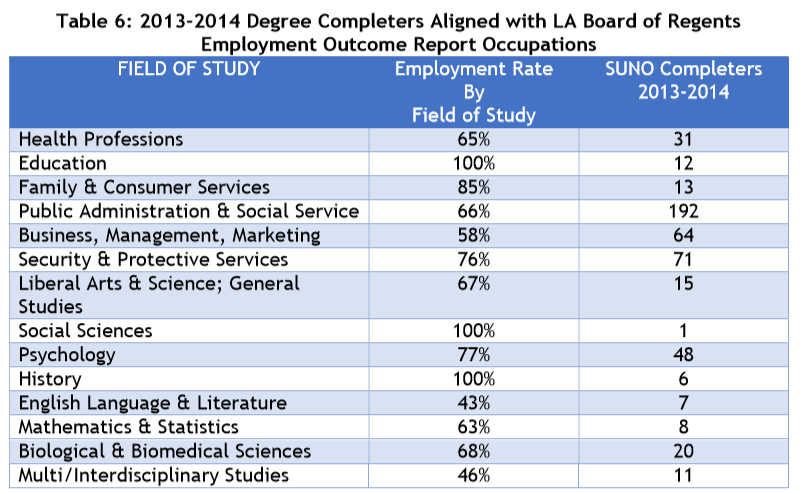 Furthermore, all graduating seniors are required to complete a Graduate/Professional School Survey which enables the University to obtain information on graduate/professional school plans. According to data submitted by the Office of Institutional Effectiveness to the National Student Clearinghouse, the StudentTracker Detailed Report indicates that 350 of 1,281 or 27% of baccalaureate degree Completers from Summer 2013 through Fall 2017 proceeded to graduate schools.
Non-traditional Student Education
The Mission statement specifies supporting college-level education in Nontraditional, adult population, i.e. 25 years and over. Students "Good Standing" status, i.e. eligibility to be enrolled for further classes was determined for Fall semesters 2013 to 2017, comparing Non-traditional with Traditional students. As shown in Figure 2, over 54% of total enrollment each year were Non-traditional students. Furthermore, at the end of each Fall semester, over 74% of Non-traditional students were in good academic standing (range 74% to 85%) as shown in Figure 3. Traditional students had a good standing range of 64% to 79%.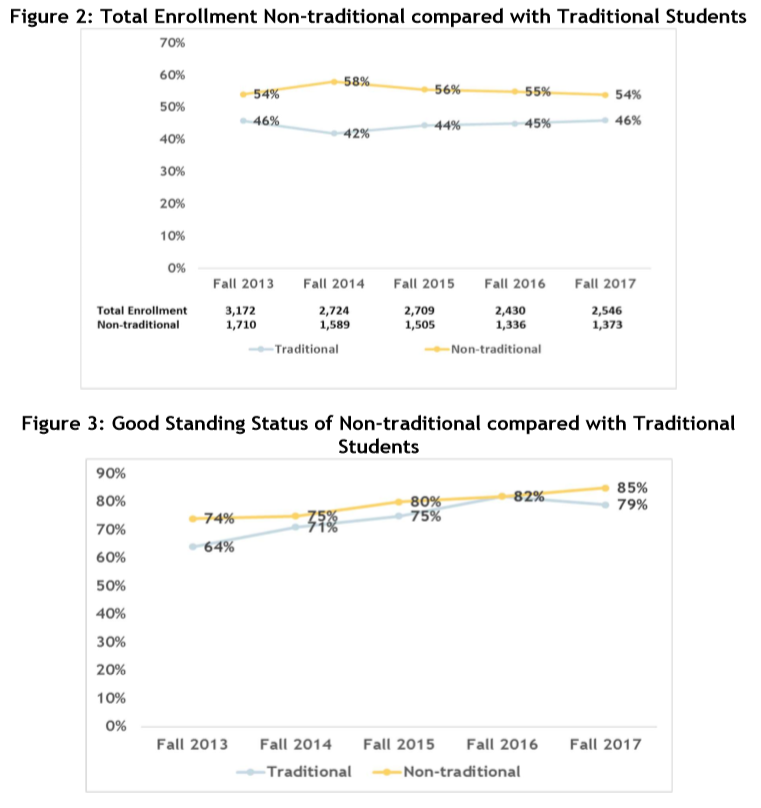 Extramural Achievement
Though not a formally targeted measure, the University female track team (The Lady Knights) won the 2018 National Association of Intercollegiate Athletics (NAIA) Outdoor Track and Field Championship, May 24-26, 2018, in Gulf Shores, Alabama. Track Coach, Younne Reid, also received the National Coach of the Year honors.