SUNO Suited for Success Career Center


Our goal is to promote student success and development of communication and soft skills for career readiness by developing a four-year career plan that includes mock interviews, resume writing, character, and fitness, and the development of employment profiles on Linkedin other social media platforms. Students will also gain knowledge of the usage of web-based platforms, including BigInterview, HandShake, and Google Digital Skills, to gain career opportunities and enhance their career readiness.
---
Students will also participate in workshops and seminars that focus on resume writing, interviewing skills, professional attire for the world of work, time and money management workshops, study skills workshops, life skills, and written and oral communication activities. In addition, students will engage within their discipline-specific courses for internships and job shadowing experiences.
---
Students will be required to visit the SUNO Suited for Success Career Center at least three times within a semester and must complete at least four modules in BigInterview and attend at least two workshops, seminars, or job fairs each year.
This will allow students to reach the following goals:
Acquire soft practical skills (resume writing, interview skills, and dress for success/professional attire), including oral and written communication, that enhance employability;

Will confidently articulate career goals using discipline-specific terminology.

Will demonstrate appropriate soft skills through informal and formal opportunities in selected courses through presentations and internship evaluations.
---
The center will be aligned with the goals and student learning outcomes of the Quality Enhancement Plan (QEP) and will focus on six strategies: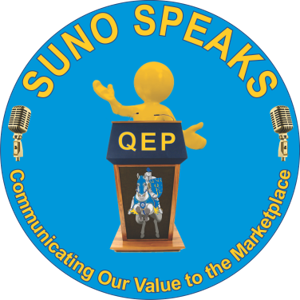 Integrating career into the student experience for undergraduate engagement
Graduate student and alumni engagement
Strengthening relationships with stakeholders
Defining and building employability skills
Provide and expand experimental learning opportunities for students
Assessment and program evaluation


Students MUST complete 30 modules in BigInterview prior to graduating,

---

Create your Handshake profile today!

Follow these simple steps

Go to suno.joinhandshake.com
Create your profile with your my.suno.edu email address
Upload your resume and click on the Employers tab to select your interest.
Employers will begin to send you notifications

---
Office of Career Placement Services – "Preparing our students for the Workforce"