Ways To Give | Invest In SUNO
Welcome to the Southern University at New Orleans Office of Advancement. Our department provides a wealth of opportunities to give back to SUNO through our Annual Fund programs, Endowments, and many other giving opportunities. Our department is located in the Emmett Bashful building. Please contact our office about any questions you may have, our staff is prepared to assist you.
Give Online Today!

Ways to Give
Giving to SUNO has an immediate impact on the University's ability to student scholarships, faculty incentives for ground-breaking research and technological innovation. Your financial support will provide the vital resources we need to help us create a meaningful and exceptional educational experience for all of our students. ·
Cash gifts
Making a gift of cash by credit card, check or money order is often the most convenient way to give to Southern University at New Orleans. These gifts can be unrestricted or designated for a specific purpose. Options of making a cash gift:
Give online
Give by Phone with a credit or debit card by calling 504.286.5129.
Give by mail by sending a check or money order to the Office of Institutional Advancement
Office of Institutional Advancement c/o SUNO Foundation
6400 Press Dr.
New Orleans, LA 70126
Gifts of Stocks & Securities
Gifts of appreciated shares of marketable securities are beneficial to donors and to Southern University at New Orleans. When donating stocks fully to the University, a donor may avoid paying capital gains taxes on the donation, and also claim a tax deduction for the fair market value of the shares. To find out more about this great gift option, contact the Office of Institutional Advancement, at 504.286.5342.
Gifts of Vehicles & Equipment
Special equipment is required in almost every field of study. In many areas, the purchase of the most recent equipment and technology is critical. Vehicles in good working condition are always welcomed by the University and are a great way to support our facilities department and other areas in need of vehicles. All donations of this kind are tax deductible at fair market value.
Memorial Gifts
Honor a loved one with a gift to the SUNO Foundation. Gifts in memoriam may be made in any amount. All gifts to the memorial fund are recorded and recognized in the Annual Giving Report.
Life Insurance or Planned Giving
A gift of a Life Insurance policy is an excellent way to display your support for Southern University at New Orleans. To give through a life insurance policy to the University:
Designate the Southern System Foundation c/o Southern University at New Orleans as a beneficiary of your life insurance policy.
Purchase a new policy and name Southern University System Foundation c/o Southern University at New Orleans as the owner and beneficiary.
Matching Gifts
A matching donation (sometimes referred to as a matching gift) is a charitable gift made to a non-profit organization (such as SUNO) by a matching donor (an employer) under the stipulation that the original donor (an employee such as you) first makes a gift to the organization.
Many employers sponsor matching gift programs. In some cases, an employer will match a gift if you are married to an employee, widowed from someone who was an employee, serve as a board member, or if you've retired from the company. Matching gifts can double or even triple the size of your gift. If you have one of the mentioned relationships with a company, you can find out if the company will match your gift to Southern University at New Orleans by using the search tool below.
In simpler terms, if you give SUNO $250, your employer will pay SUNO an additional $250 to 'match' your gift. The exact details of the matching (the dollar amount they will match per donation and the maximum amount they will match annually) varies for each employer and also on your employee status (full-time vs. part-time) and can usually be found on the employer's website.
Contribute by Payroll Deduction
SUNO employees are eligible to make charitable contributions via payroll deduction. You may choose to have any amount of $10.00 or more deducted from your payroll bi-weekly, or you may wish to have the Office of University Institutional Advancement calculate the appropriate amount to fulfill a pledge. At any time, a payroll deduction can be changed or stopped by contacting the Office of Institutional Advancement. Payroll deductions are an easy way to support SUNO and its numerous academic programs.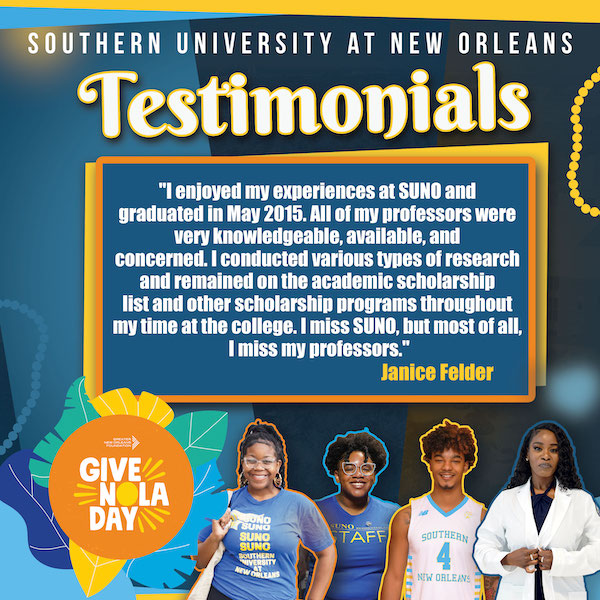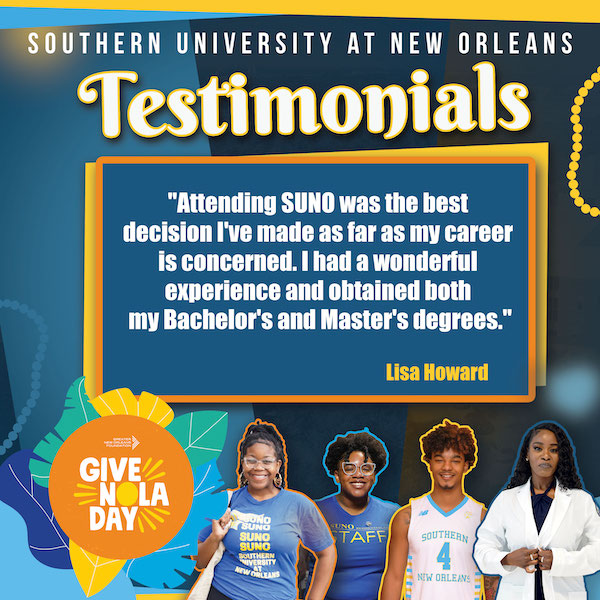 ---
Contact
Southern University at New Orleans
Office of Institutional Advancement
6400 Press Drive
New Orleans, LA 70126
Phone: 504.286.5342