Health Information Management Systems
What is Health Information Management?
The American Health Information Management Association (AHIMA) defines health information management as: "the practice of acquiring, analyzing and protecting digital and traditional medical information vital to providing quality patient care. It is a combination of business, science and information technology."
Why Purse a Career in Health Information Management?
With so many changes in health care, individuals skilled in the interpretation of health data is needed. Individuals with an interest in computers, health care and business will find that health information management is a challenging and fulfilling career option. Health information managers (HIM) organize, oversee, and protect patient health information data which includes symptoms, diagnoses, medical histories, test results, and procedures. These administrative professionals make sure that traditional and digital medical data maintains its quality, accuracy, accessibility, and security. They serve as an essential link between physicians, patients, and third-party payers.
Why Study Health Information Management at Southern University at New Orleans?
The Health Information Management Systems (HIMS) program is 100% online with 8-week courses, which allow students to graduate in less than four years. The HIMS program at SUNO prepares students to work with health information in different capacitates and various healthcare settings. This program blends the sciences of medicine, information technology, healthcare statistics, information resources, and quality assurance to ensure that the most up-to-date information is available to make informed decisions. The HIMS Program students are eligible to sit for the Registered Health Information Administrator (RHIA) examination with the American Health Information Management Association (AHIM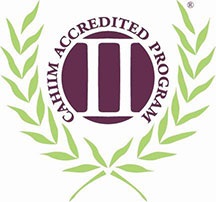 The Health Information Management accreditor of Southern University at New Orleans is the Commission on Accreditation for Health Informatics and Information Management Education (CAHIIM). The College's accreditation for a baccalaureate degree in Health Information Management has been reaffirmed through 2023. All inquiries about the program's accreditation status should be directed by mail to CAHIIM, 200 East Randolph Street, Suite 5100, Chicago, IL, 60601; by phone at (312) 235-3255; or by email at info@cahiim.org.

---
SUNO's Health Information Management Systems Reporting Year 2020-2021
Student Satisfaction Rate for HIMS graduates: 100%
Employment Rate all HIMS Graduates: 100%
Academic Progression Rate: 84%
HIMS Mission
The Division of Health Information Management Systems (HIMS) is developed in accordance with the stated mission of Southern University at New Orleans and on the belief that the vital information generated regarding health care is needed by the patient, community, health care administrators, medical staff and other designated recipients. The primary mission of the Division of HIM is to improve the health care delivery system through the education and training of students who are knowledgeable about the management of health information systems, as well as provide service to the health care community and the HIM profession. The Division of HIM is dedicated to the creation, transmission, and application of knowledge relating to health information management. In addition, the program seeks to prepare students for lifelong learning
HIMS Goals
The Health Information Management system (HIMS) program provides undergraduate students with the tools they need to pursue a rigorous course of study and develop a deep understanding of the world of healthcare across disciplines and their place in it. Students develop their reading, writing, statistical, scientific, analytical, leadership and communication skills. The HIMS courses are designed to develop students' competencies with their specific domains, tasks and service within the scope of the profession. There are five domains areas which we integrate for this baccalaureate degree program:
Domain I: Information Governance

Domain II: Compliance and Uses of Protected Health Information

Domain III: Data Informatics and Analytics

Domain IV: Revenue Management

Domain V: Management and Leadership
---
Stay in touch with us on Social Media!
The HIMS Program is accredited by the Commission on Accreditation for Health Informatics and Information Management Education (CAHIIM). HIMS Program students are eligible to sit for the Registered Health Information Administrator (RHIA) examination with the American Health Information Management Association (AHIMA)