Cybersecurity | Home

Earn a Bachelor of Science in Cybersecurity from the leading HBCU in the country – Southern University at New Orleans (SUNO).
---
WELCOME
Prepare to earn your bachelor's in cybersecurity degree at the premiere HBCU in the country – Southern University New Orleans (SUNO). Learn in an entry-level physical/on-premises workplace replicated environment with faculty mentors and industry experienced professionals in a competency-based approach. Gain full knowledge and skills required by employers and needed to mitigate current and real-world threats with the opportunity to achieve critical industry certifications from the knowledge and skills earned. SUNO's students are drawn from every facet of society, especially underrepresented minority communities. SUNO is a leader in the cybersecurity learning industry. Our program helps you through:
Competency-based to ensure you obtain the knowledge and skills of the cybersecurity professional with SUNO's hands-on learning approach.
Current classroom information from the leading industry providers, CompTIA, EC-Council, and CISCO – helping to prepare you for industry certifications like CCNA, A+, Network+, Security +, and CEH.
---
FEATURES
Fully configured physical/on-premise lab with 30+ study

In-room configured learning PODS (configurable for
various scenarios from Ransomware to hacking)

Security Operations Fundamentals

Cloud Security Fundamentals

Cybersecurity Foundation/Fundamentals - CompTIA
course content (A+, Network+, Sect, Linux+, Servert,
PenTest, CASP, CySA+)

Cisco NET Academy (CCNA, CCNP, CCIE)

IBM Cvbersecurity Leadership program
---
ADMISSION REQUIREMENTS
Must meet the University admission requirements;


Must have a grade point average of 2.0 or a minimum of a
grade of "C" in all courses recommended for transfer:


Students are encouraged to contact the Office of E-Learning
and to enroll in the Smarter Measure orientation training
session should they desire to take an online course.
DEGREE REQUIREMENTS
Students must complete a minimum of 120 credit hours that
consist of the general education core courses, area
concentration courses, enhanced electives and free electives.
In addition, 45 credit hours must be taken at the 300 or 400
level (15 credit hours at the 300 level. 15 at the 400 level and
the remaining 15 at the 300/400 level based on the student's
choice)
---
ACADEMIC SUPPORT
The Cybersecurity Program, in cooperation with other
offices and academic departments at the University offers a
variety of academic support services designed to improve
academic performance and enhance the educational
experience.
---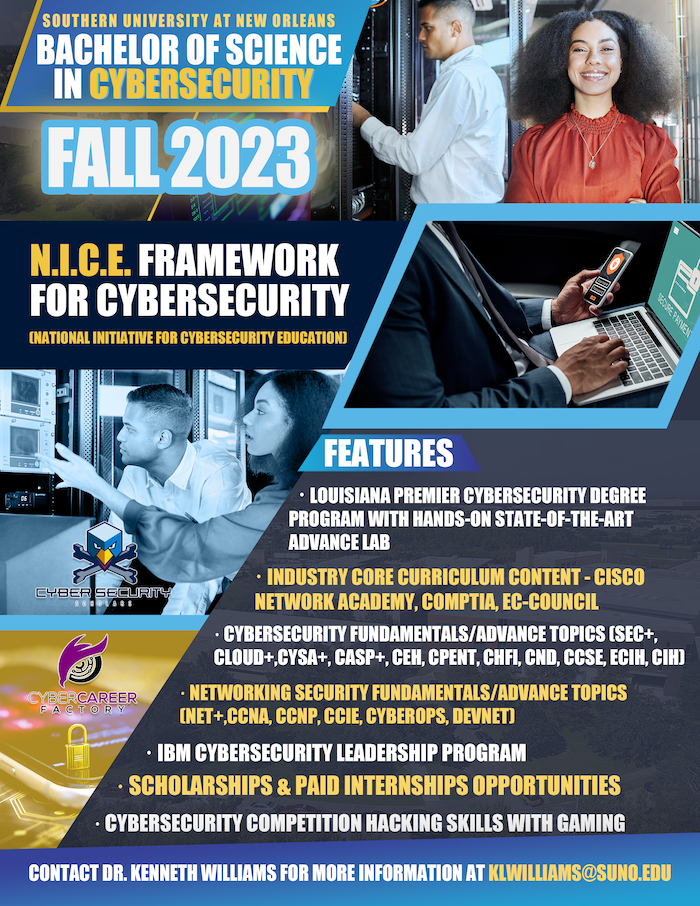 The Southern University at New Orleans Bachelor of Science (B.S.) in Cybersecurity program is a fully accredited top-notch program with a unique approach to the cultivation of entry level functional Information Technology and cybersecurity knowledge and skills through its hands-on skills-based approach to learning only replicated in the organizational environment. The program offers a fully configured physical/on-premises lab with 30+ workstations to reinforce skills and knowledge acquired through the process of traditional learning. Industry relevant knowledge are acquired through current content delivered directly from industry leaders such as CompTIA, EC-Council, Cisco, and IBM. Students develop relevant skills acquired from knowledge through a competency-based learning approach where they learn and do in a loop for each knowledge area until they achieve the desired level of competency. Faculty mentors along with industry professional also help by offering individual instructions through different learning modes only replicated in actual organizational environments.
The SUNO Cybersecurity program utilize the taxonomy and lexicon of the National Initiative for Cybersecurity Education (NICE) Cybersecurity Workforce Framework with its seven categories, thirty-three specialties, and fifty-two work roles. The program is also designed to meet the rigorous requirements outlined by the National Security Agency (NSA) Center of Academic Excellence in Cybersecurity (CAE-C).
The SUNO B.S. Cybersecurity program's approach to building and strengthening hands-on, experiential, and work-based learning approaches—includes apprenticeship research experiences, co-op programs, and internships for our students and faculty. In addition, the program assists in developing model career paths for cybersecurity-related positions for the private and public sectors. It also promotes the development of interdisciplinary cybersecurity curriculum guidance that incorporates employers' cybersecurity needs.