SGA President Dana Marie Bailey 2023 - 2024 White House HBCU Scholar Initiative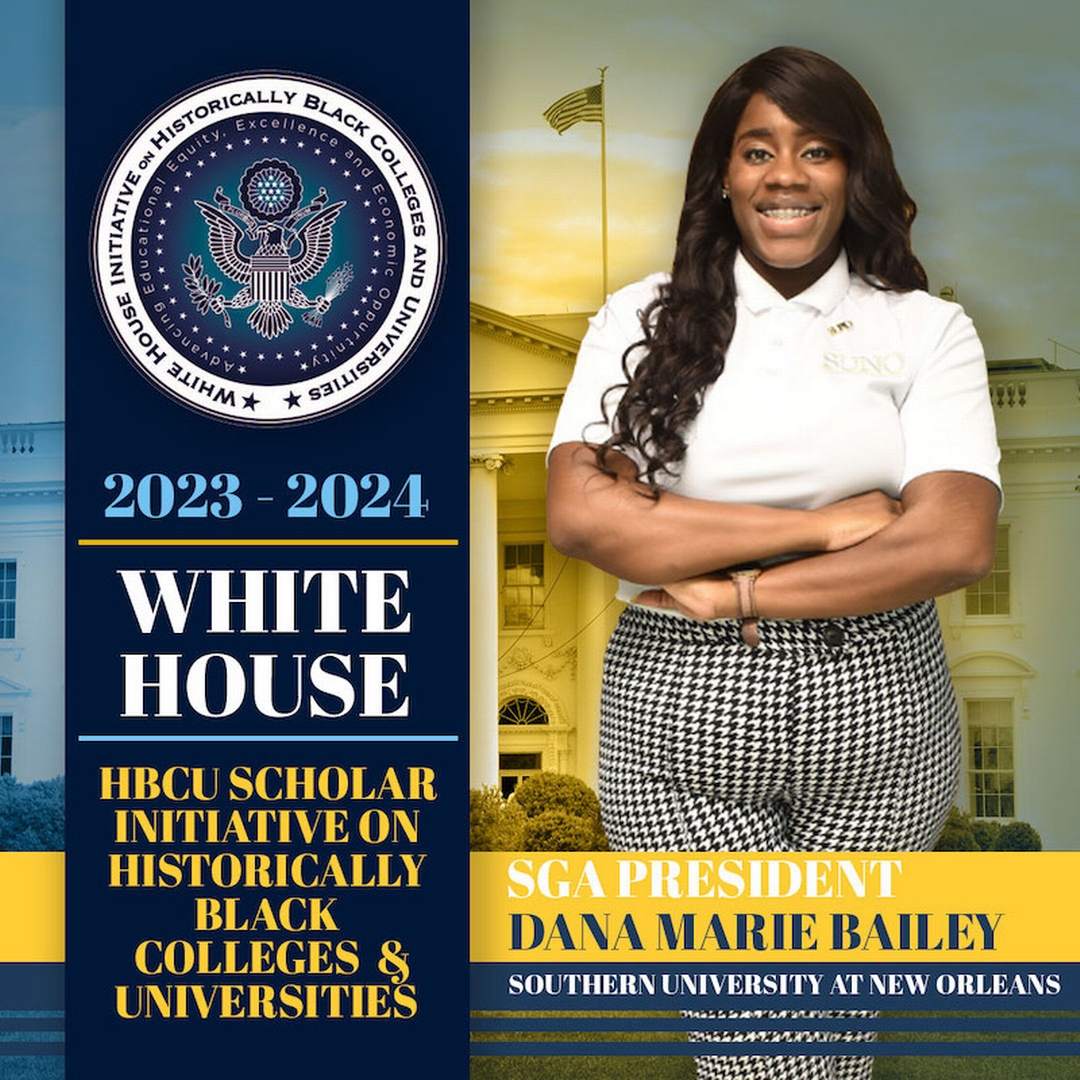 Three students attending Southern University System institutions are part of the ninth cohort of the

White House Initiative on Historically Black Colleges and Universities' HBCU Scholars

. This year's program recognizes 102 undergraduate, graduate, and professional students from 29 different states and countries for their accomplishments in academics, leadership, civic engagement and much more. The 2023 HBCU scholars are the largest cohort since the inception of this recognition program in 2014 and represent a record number of institutions, with the HBCU participation rate now over 70 percent.
"Our 2023 HBCU Scholars are talented students who embody the culture of excellence and inclusion championed by our nation 's Historically Black Colleges and Universities," said U.S. Secretary of Education Miguel Cardona. "On behalf of the U.S. Department of Education and everyone across the Biden-Harris Administration, I congratulate each of our 2023 HBCU scholars on this prestigious recognition and thank them for their commitment to serving their communities. I'm thrilled to see the HBCU Scholars program continue to expand its reach and provide such exciting professional development, networking, and educational opportunities to some of our nation's brightest and most promising young leaders."
Southern University System students who are a part of this year's cohort are:
Southern University and A&M College


Henry Steele III, Monroe, Louisiana
Southern University at New Orleans


Dana Bailey, New Orleans
Southern University Law Center


Crystal Ammons, Chattanooga, Tennessee
Currently enrolled at 70 of our nation's HBCUs, this group of HBCU Scholars were selected from a competitive pool of over 300 applicants. Over the course of an academic school year, HBCU Scholars will serve as ambassadors of the White House Initiative on HBCUs, the U.S. Department of Education, and their respective HBCU. Furthering the mission to

Raise the Bar

, students in this program are encouraged to lift their communities, unite others around student success, work to strengthen our democracy, and grow our economy. HBCU Scholars will be offered professional and personal development, and cross-university networking opportunities with an opportunity to explore, discuss, and improve issues specifically related to the HBCU community.
A critical component of the HBCU Scholar Program is a partnership with NASA to foster innovation and opportunity for the cohorts. This partnership with NASA makes the Minority University Research and Education Project (MUREP) Innovation Tech Transfer Idea Competition (MITTIC), "Mini MITTIC" part of the HBCU Scholar Program. Through the Mini MITTIC program, HBCU Scholars will partner with one another to develop ideas to commercialize technology derived from NASA intellectual property that can improve their campus and surrounding communities. HBCU Scholars will have the opportunity to present their IP ideas in-person at NASA Goddard Space Flight Center in Greenbelt, Maryland during the National HBCU Week Conference in September.
"NASA's MUREP is thrilled, once again, to engage with the White House Initiative on HBCUs to enhance the learning experience for this year's cohort of White House Scholars," said MUREP manager Torry Johnson. "We are looking forward to the new ideas that the Scholars develop at the MITTIC Hack-a-thon using NASA's technology portfolio and our continued overall support of the HBCU community."
HBCU Scholars will also be invited to the

2023 HBCU Week National Annual Conference

, which will be held on September 24-28, 2023, at the Hyatt Regency in Crystal City, Virginia. This year's conference themes are, "Raising the Bar: Forging Excellence Through Innovation & Leadership." During the conference, HBCU Scholars will participate in conference sessions designed to engage a spirit of innovation, leadership, and personal and professional development. Most importantly, HBCU Scholars will have opportunities to engage with one another, initiative staff and partners all to further showcase their individual and collective talent.
Following the conference, HBCU Scholars will be invited to participate in programs, events and monthly master classes that are designed to enhance HBCU Scholars' professional development and create greater access to post-graduation opportunities within non-profit, business, and federal agency partners to ensure that as a nation we remain globally competitive.
More information about the 102 HBCU Scholars' activities will be provided in the coming months as they serve as ambassadors of the White House Initiative on Advancing Educational Equity, Excellence, and Economic Opportunity through Historically Black Colleges and Universities