SUNO Awarded $10,000 Donation from AT&T Louisiana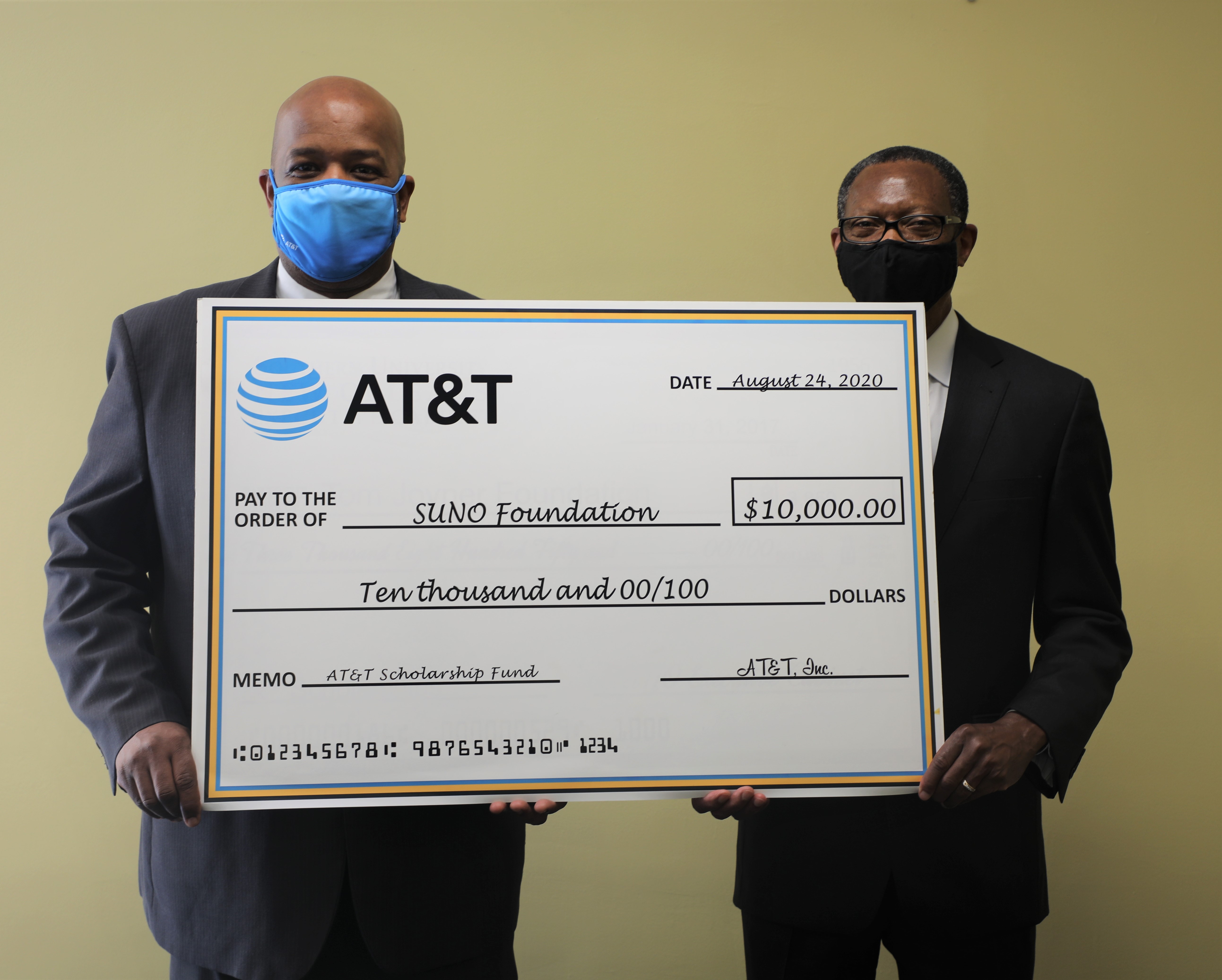 Southern University at New Orleans (SUNO) Awarded $10,000 Donation from AT&T Louisiana
New Orleans, Louisiana - September 30, 2020 – Southern University at New Orleans (SUNO) is proud to receive a generous donation in the amount of
$10,000.00 from AT&T Louisiana. The donation will be used to help in supporting students through scholarships.
"We have a long history of working with the Southern University System and the SUNO Foundation, and we are proud to work with them to help meet the expanded needs in the community that have resulted from the pandemic," said David J. Aubrey, Regional
Vice President, AT&T Louisiana. "Students face many new challenges in this environment, and we are committed to supporting the SUNO Foundation's efforts to expand opportunities for students in the area."
"Our success is due, in part, to cooperation from generous community partnerships such as AT&T who value our service to our students and invest in our efforts. These funds will provide much-needed scholarship opportunities to deserving students to receive a quality education," said Dr. James Ammons, Interim Chancellor, Southern University at New Orleans.
Corporate support and partnerships with Southern University at New Orleans and the SUNO Foundation have always been critical to moving forward university-wide initiatives including improvements to infrastructure as well as necessary direct and indirect funding to students.
##########
About Southern University at New Orleans (SUNO)
Southern University at New Orleans (SUNO) was founded as a branch unit of Southern University and Agricultural & Mechanical College in Baton Rouge (SUBR) on September 4, 1956. Southern University at New Orleans has been providing accessible and high-quality educational options for the Greater New Orleans area for more than 60 years.