Lady Knights Win 4 National Outdoor Track Championships
Team Misses Winning the Overall Championship by 2 Points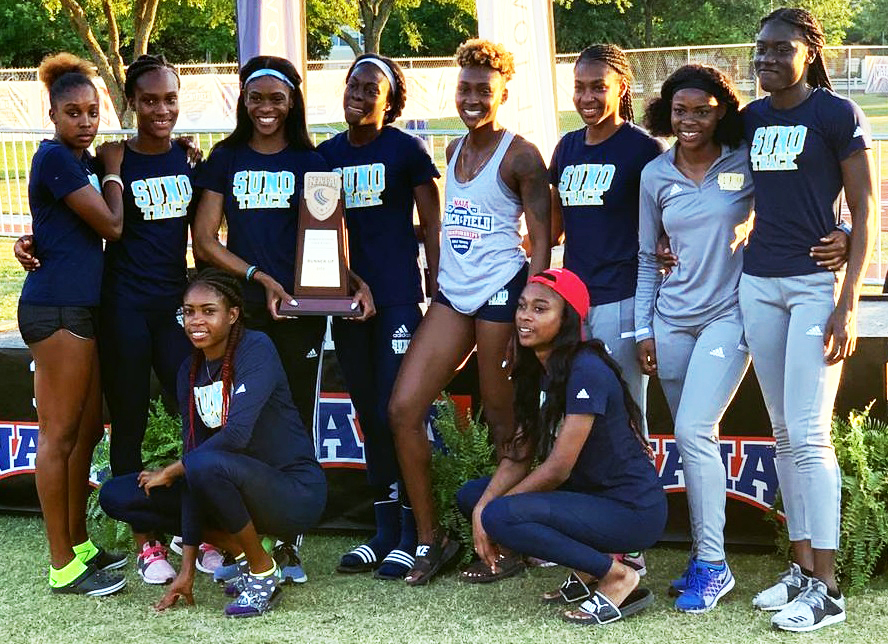 The Southern University at New Orleans (SUNO) Women's Track Team brought home four national championships after competing in the 2019 NAIA Women's Outdoor Track and Field Championships in Gulf Shores, AL May 23-25. The SUNO team came in second to University of British Columbia for the overall championship, missing the crown by only two points.
The 4x100m relay team of Kerry Ann Scott (sophomore), Stacey Ann Williams (freshman), Kimone Hinds (sophomore) and Argyana Bolton (junior) claimed the University's fourth title in the event with a time of 45.46. The last time SUNO won the event was in 1998.
Kimona Smikle (senior) has won back-to-back titles in the 400m hurdles with a time of 59.27. While Stacey Ann Williams won her first 400m title with a time of 52.00. This is SUNO's fourth consecutive title in this event.
The 4x400m team of Argyana Bolton, Kimona Smikle, Xuxa Peart (sophomore) and Stacey Ann Williams captured the University's fourth consecutive title with a time of 3:38.22. The University has won a total of eight titles in this event.
SUNO Track Coach Younne Reid said he is proud of the both the men's and women's track teams because they represented the University well. "When you look at how small our team is compared to the other teams, it is a wonderful feeling. I want to make special mention of my assistant coaches (Sanja Powell, Andre Gordon and Lynika Collins). Without having them by my side, none of this would have been possible."
What is the secret to the Track Team's success? "I don't have any secret," Coach Reid said. "My mindset towards wining is what drives me and the team. Hard work, determination and patience is the key to success. I believe they (the track athletes) buy into how I want to win and they put in the hours of work that it takes to win."