Teacher Education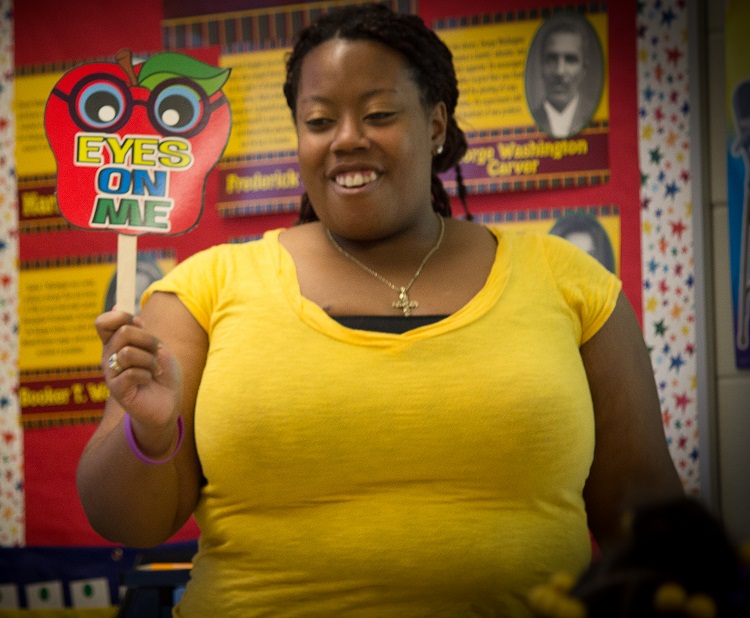 More Department Details
Programs
The Teacher Education Department is comprised of two programs: Early Childhood Education and Elementary Education.
The Early Childhood Education Program prepares professionals who primarily work in the public systems' Kindergarten through 3rd grade (PreK-3). This program has two components; the first is an undergraduate route for candidates to earn a Bachelor of Science degree in Education and the second route is for candidates who already have a bachelor's degree in a field other than education and wish to become certified to teach in PreK-3 classrooms through the Non-Masters Certification-Only Alternative Education (Post-Baccalaureate) Program.
The Elementary Education Program prepares candidates to teach in Grades 1-5 classrooms. Like the Early Childhood Education program, candidates may select the baccalaureate route or, if qualified, enroll in the Non-Masters Certification-Only Alternative Education (Post-Baccalaureate) Program and become certified as elementary grades 1-5 teachers. The Certification-Only Program also offers courses leading to certification of teachers for secondary grades 6-12 classrooms in selected fields (i.e. Math, Science, Social Studies).
These programs are approved by the Louisiana Board of Regents and the Louisiana Department of Education to offer teacher preparation and certification. The Elementary Education Program is designed to meet the certification requirements as delineated by the Louisiana Board of Elementary and Secondary Education (BESE). The teacher education programs are accredited by the National Council for Accreditation of Teacher Education (NCATE). The most recent accreditation reaffirmation visit by NCATE was in Fall 2008 and the next visit will be conducted Sunday, October 25 through Tuesday, October 27, 2015.
FAQ
Who are we?
The College of Education and Human Development includes Teacher Education and
Child Development and Family Studies (CDFS).
What is the difference between the teacher education programs and CDFS?
The CDFS program prepares candidates to become child, family and community
advocates and owners of day care facilities (passing Praxis is not a requirement). See
Career Options for CDFS for more information. Whereas the teacher education
programs of study prepare candidates to become certified as classroom teachers
(passing Praxis required).
What is the Praxis and am I required to take it?
The Praxis exams are teacher licensure/certification exams taken by individuals entering the teaching profession. This exam is required for students of Teacher Education ONLY, not students enrolled in CDFS. Praxis I and II are partial requirements for teacher certification for the state of Louisiana. For information regarding Praxis, go to www.ets.org/praxis.
Can I prepare for the Praxis?
Yes, all students who are enrolled in Teacher Education programs in the College of Education & Human Development have access to Edmentum/Plato (PLE) Courseware, which provides students with modules that address the skills and knowledge needed to successfully pass Praxis I and parts of Praxis II. PLE Courseware consists of integrated assessments, including exemptive pretests that allow learners to forgo content they already have mastered and focus on the concepts that need additional work. Course-level assessments include tests for each course module to ensure concept mastery. User information is provided below for students to begin.
Students sign in at https://ple.platoweb.com/Account/SignIn
Account login information is as follows:
Account login — suano1
PLATO — Student Banner number
Password — Student Banner number
Once the account information is entered, click login then continue onto the homepage.
What Teacher Education courses require PLE activation and use?
The courses listed below include the PLE Courseware on-live laboratory. Students enrolled in these courses are required to complete a minimum of 10 hours in the lab, and are exempt from the lab only if they have passed both the Praxis I and Praxis II tests. Failure to complete the lab hours will result in an incomplete for the course:
EDUC110 — Intro to Teaching
ECED211 — Intro to ECE and Child Development
EDUC212 — Communication for Teachers
EDUC230 — Child Psychology
How often should I meet with my advisor?
All students are expected to meet with their program advisors a minimum of twice each semester — once for general program advisement and once for course enrollment during early registration.
Can I choose my field experience/students teaching site?
No. Site placements are determined by the Director of Field Experience along with college faculty.
If I am enrolled in more than one course requiring field experience hours, am I required to complete field experience hours for each individual course or can my field experience hours overlap?
No. Each field experience is unique and designed according to the specified course objections. Therefore, field experience hours cannot overlap or serve the purposes of more than one course.
Can I enroll in other courses while I complete my student Teaching/Internship and Student Teaching Seminar?
No. Candidates who are enrolled in Student Teaching/Internship and Student Teaching Seminar are not permitted to take any other courses.
Which courses can I take prior to passing parts of the Praxis?
It depends on your program of study. Please refer to your course curriculum.
Staff
Dr. Willie Jones, III
Dean / CAEP Coordinator
Lake Campus Multipurpose Complex, Room 319
504.284.5520
wijones@suno.edu
Dr. Deborah Darby
Assistant Professor
Lake Campus Multipurpose Complex, Room 312
504.286.5041
ddarby@suno.edu
Dr. Jenita Hegwood
Assistant Professor/Director of Student Teaching & Field Experiences
Lake Campus Multipurpose Complex, Room 339
504.286.5353
jhegwood@suno.edu
Mr. Charlie Johnson
Assistant Professor, Elementary Education
Lake Campus Multipurpose Complex, Room 324
504.286.5043
chjohnson@suno.edu
Dr. Vincent Johnson
Associate Professor/Acting Director, Honore' Program
Lake Campus Multipurpose Complex, Room 325
504.286.5136
vjohnson@suno.edu
Dr. Louise Kaltenbaugh
Professor/Director, Certification-Only Program
Lake Campus Multipurpose Complex, Room 317
504.286.5019
lkatlenbaugh@suno.edu
Dr. Katherine Robinson
Assistant Professor/Director, PK-16 Programs
Lake Campus Multipurpose Complex, Room 324
504.286.5044
krobinso@suno.edu
Dr. Tanisca Wilson
Teacher Candidacy Coordinator
Lake Campus Multipurpose Complex, Room 340
504.286.5087
twilson@suno.edu