Women's Basketball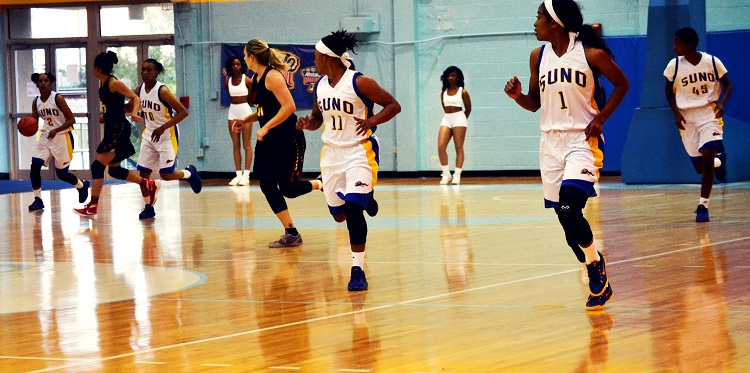 LADY KNIGHTS TEAM ROSTER
Legea Berryhill
Shadejha Brown
Raquel Davis
Tyra Gibson
India Giles
Trieshia Jackson
Kascity Martin
Andriel Moss
Jada Riley
Taliah Roberston
Asia Thibadeaux
Briana Upshur
Alexis Washington
COACHING STAFF
Head Coach: Jason Conner
Experience: 1st Season
Wins: 2
Losses: 4
Alma Mater: Belhaven University
Coach Conner will be entering his 32nd college basketball season and 15th as a Head Coach. Conner's overall record is 189-206. Conner's Head Coaching spots started at Belhaven University from 1992-1997. Conner was one of the youngest Head coaches in the country at 27 years of age. He also had the difficult task of playing NAIA Division I basketball in the storied Gulf Coast Athletic Conference with limited scholarships because the University was transitioning to the the National Association of Christian Colleges. The Blazers still managed post season play in three of Conner's five seasons at the helm. While at Belhaven, Conner, started and directed the very popular "METRO SUMMER LEAGUE" that involved hundreds of inner city youth within the Jackson, MS area.
Prior to becoming the 3rd all-time game winner in Belhaven University history, Coach Conner spent 3 incredible years helping longtime friend and colleague Coach Sandra Rushing (currently at Central Arkansas) lay the foundation for the basketball program at the University of Texas El Paso. It was a great learning and growing time and Conner took full advantage of it! After several other NCAA Division I stops at the University of Houston, where Conner worked for Jessie Kenlaw who is now a WNBA Scout, International Talent WNBA Liaison and Motivational Speaker. Conner, with the help of long-time Dallas, Texas AAU Coach Roosevelt Riley who joined Conner at the University of South Alabama, had several nationally ranked recruiting classes that always had the power house programs concerned.
Coach Conner is a loyal, motivated, enthusiastic individual that is dedicated to helping students persevere to graduation. Coach Conner has a sincere passion for coaching students to grow and develop a world and life view both inside and outside of the classroom. Coach Conner wants to create a team-oriented environment to achieve long- term goals and he will build a sense of security to inspire confidence to help students succeed. Coach Conner is extremely excited about the potential here at Southern University at New Orleans. The incredible academic options and support given to the student all across this beautiful campus is unprecedented. The campus housing is second to none and the people here really care. Coach Conner believes that in time the Lady Knights will be celebrating another Championship
Assistant Coach: Lynika Collins
Experience: 1st Season
Wins: 2
Losses: 4
Lynika Collins enters hers first year as the Assistant Coach of the Southern University at New Orleans Lady Knights.
TEAM HISTORY
GCAC ALL-CONFERENCE PLAYERS
1989 | Brenda Barabino
1990 | Gussie Collins
1991 | Karen McGee
1993 | Michelle Stark(Newcomer of the Year)
1994 | Michelle Stark
1995 | Felicia Stark(Newcomer of the Year)
1995 | Felicia Stark
1996 | Sharon Roker
1997 | Katreka Webster
1998 | Sirita Jenkins
1998 | Katreka Webster
1999 | Veronica Washington
1999 | Andrea Watson
2000 | Melissa Threadgill(Newcomer of the Year)
2000 | Andrea Watson
2000 | Veronica Washington
2001 | Nikki Dismuke
2001 | Melissa Threadgill
2002 | Autumn Johnson
2002 | Bridget Lazard
2003 | Antares Vice(Newcomer of the Year)
2004 | Andrea Goodspeed
2004 | Stacey Northern
2005 | Velicity Burkhalter(Newcomer of the Year)
2005 | Stacey Northern
2007 | Lateefa Marshall
2007 | Shatyne Hearn
2008 | Disha Leonard
2009 | Jazzlyn Prince
2010 | Jazzlyn Prince
2010 | Tyesha Robinson (Freshman of the Year)
2011 | Christine Conner
2011 | LaTiondra Smith
2011 | Lydia Ross (Co-Freshman of the Year)
2012 | Kelly Steward
2013 | Janee Morton
2013 | April Perry (Player of the Year)
2013 | Sabrina Scott
NAIA PLAYER OF THE WEEK
2005 | Stacy Northern
GCAC PLAYER OF THE YEAR
2000 | Andrea Watson
2013 | April Perry
GCAC RECORDS
Dec. 16, 1999 | Most points scored in a game (123 vs. Talladega College)
1999-2000 | Highest team scoring average in a season (92.8)
1999-2000 | Widest margin of victory in a season (25.12)
2014-2015| Led Nation in assists per game (18.33)
2014-2015| Led nation in steals per game (15.0)
2014-2015| Led nation in turnover margin (9.926)
2014-2015 | Led GCAC in scoring offense (78.96)
2014-2015 | Led GCAC in field goal pct. offense (.442)
2014-2015 | Led GCAC in scoring margin (17.44)
2014-2015 | Led GCAC in 3-pt. field goal def. (.272)
2014-2015 | Led GCAC in Assist/TO ratio (1.22)
2014-2015 | Did not lose back-to-back games all season
NAIA ALL-AMERICANS
2011 | Chrisine Conner
2012 | Kelly Stewart (Honorable Mention)
2012 | Sabrina Scott (Honorable Mention)
GCAC CHAMPIONSHIPS
2000 Conference Co-Champs
2014 Conference Champs
GCAC TOURNAMENT CHAMPIONSHIPS
2012 Tournament Champs
2014 Tournament Champs
COACHES
1982-1985 | Morris Bates: 9-56
1985-1989 | Harold Hunter: 55-45
1989-1990 | Cirilo Manego: 5-18
1991-1998 | Jean Brooks: 87-103
1998- 2015 | Elston King: 229-156
2015 - Present | Roshaun Ambrose
GCAC COACH OF THE YEAR
1989 | Harold Hunter
2013 | Elston King
2014 | Elston King