Track Team Wins 2 Championships at Indoor Nationals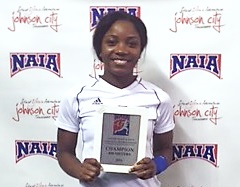 Senior Orenthia Bennett (pictured above) won the women's 400m and was a member of the winning women's 4x400m relay team as she led Southern University at New Orleans to a sixth place finish at the NAIA Indoor Track & Field Championships at the Dave Walker Track on the campus of East Tennessee State University Saturday, March 5, 2016.
It was SUNO's best finish at the meet since it claimed the NAIA title in 1997.
Bennett won the 400 meters with a time of 55.39. Teammates Shadae Hylton and Shantae Green finished third and eighth respectively, earning All-America Honors.

Bennett picked up her second national championship of the day running the anchor leg of the 4x400 meter relay. SUNO's team of Hylton, Green, Leonie Robinson, and Bennett finished with a time of 3:43.79, nearly two seconds better than the runners-up.
"I'm so impressed with this team," said Coach Yhann Plummer, a former national champion for SUNO himself. "They have worked so hard to put themselves to compete against the very best. They train every day without complaint, they fight through injuries, and nothing deters them. I'm just extremely proud of them and of my assistant coach Younne Reid for his work, in particular, with these ladies."
SUNO's men's team finished 15th.
Several SUNO athletes on both teams earned All-America honors by reaching the finals of their respective events. A full listing is below:

Women's Indoor Track & Field All-Americans
400 Meter Dash
Orenthia Bennett (National Champion)
Shadae Hylton
Shantae Green


60 Meter Dash
Oshin Brooks-Gillings
Leonie Robinson
200 Meter Dash
Leonie Robinson
Oshin Brooks-Gillings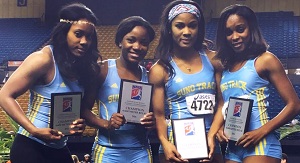 4x400 Meter Relay
Shadae Hylton, Shantae Green, Leonie Robinson, Orenthia Bennett (National Champions)
Men's Indoor Track & Field All-Americans
400 Meter Dash
Jahnoy Thompson


800 Meter Run
Alex Saunders


200 Meter Dash
Jahnoy Thompson


4x400 Meter Relay
Danielle Richards, Alex Saunders, Sanj Powell, Jahnoy Thompson