SUNO Women Earn 2 National Championships, Finish 4th Overall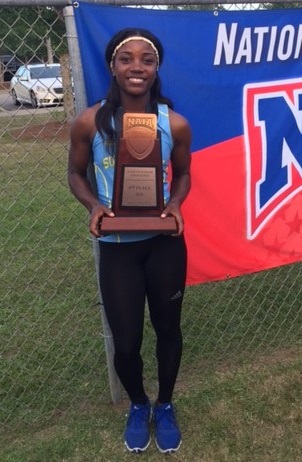 GULF SHORES, Ala. -- Southern University at New Orleans had its most successful trip to the NAIA Outdoor Track & Field Championships in more than two decades, finishing fourth overall and producing two national champions.
The Lady Knights were led by senior Orenthia Bennett, who captured the women's 400 meter crown. Bennett also was a member of the national champion 4x400 meter relay team, along with freshman Shantae Green, sophomore Shadae Hylton and senior Leonie Robinson.
SUNO's women compiled six top-five finishes overall, with Hylton taking third place in the 400 meters, sophomore Oshin Brooks-Gillings finishing fourth in the 100 meters, Green running fifth in the 400 meter hurdles, and the team of sophomore Chantal Pennie, Hylton, Brooks-Gillings and Robinson finishing second in the 4x100 meter relay.
"This was an outstanding team effort," said SUNO Head Track Coach Yhann Plummer. "The team was excited to finish fourth, but it felt like it could have done even better. We left a few points out there on the track this weekend, but overall I can't be anything but proud of the work that they put in this entire season and here at the national championships."
The SUNO men's team produced three All-Americans. Freshman Danielle Richards came in fifth in the 400 meters and senior Chad Thomas finished sixth in the 400 meter hurdles. Alex Saunders was the team's top performer, earning a third place finish in the men's 800 meter run.
"We're going to lose some great athletes and leaders in people like Orenthia (Bennett) and Chad (Thomas), but I think the future is very bright for SUNO Track," Coach Plummer said. "We'll be back next year and we'll build on this. Right now, I'm just excited for our team and our University,"