SUNO Track Team Brings Home National Championships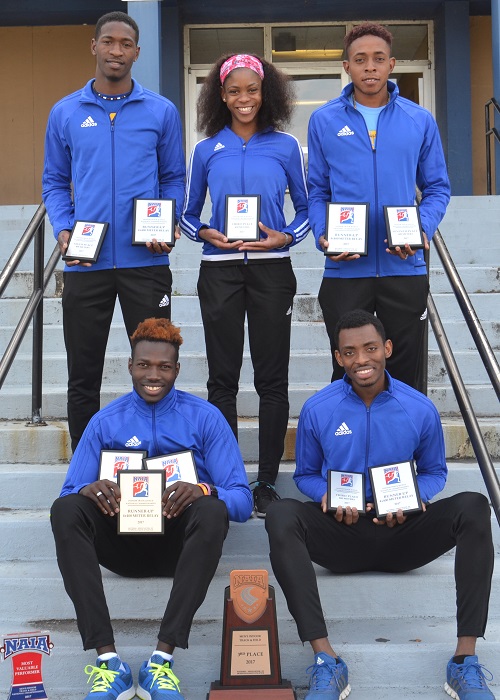 Southern University at New Orleans (SUNO) Track Team member Jahnoy Thompson won first place in the 200 meters and 400 meters, and was named the Most Valuable Player during the recent NAIA Indoor Track & Field National Championships in Johnson City, TN. A sophomore Business Administration major, Thompson is the first SUNO athlete to accomplish this feat in University history.
In the team events, the Lady Knights won top honors in the Women's 4X400 relay. The four team members are Shadae Hylton, Shantae Green, Oshin Brooks Gillings and Argyanna Bolton. The Men's Relay Team (Danielle Richards, Alex Saunders, Academe Campbell and Thompson) won second place in the Men's 4X400.
Several team members also were named All Americans: Campbell and Richard in the Men's 400 meters; Saunders in the Men's 800 meters; Hylton, Green and Kimona Smikle in the Women's 400 meters.
Overall, the Lady Knights – with eight athletes -- placed fifth out of 68 schools; while the Knights placed third out of 68 schools, with only four athletes.
"Words can't describe how proud I am of my group," Coach Yhann Plummer said of his team. "We beat teams with 30-40 athletes. The best part is that the team also performs at the top of their class with a team GPA of 3.5."
Plummer also credits Lady Knight Coach Younne Reid's hard work and dedication for helping the Lady Knights compete at such a high level.