SUNO Hires New Campus Police Chief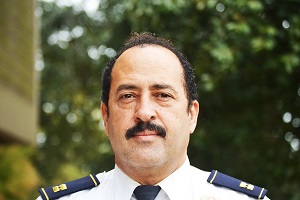 Law enforcement veteran Bruce E. Adams has been hired as the new campus police chief at Southern University at New Orleans (SUNO). The Southern University System Board of Supervisors approved his appointment today.
Adams comes to SUNO after working for more than 40 years at the New Orleans Police Department, where he worked his way up the ranks as a patrol officer, sergeant, lieutenant, captain and deputy chief. He announced his retirement from NOPD Saturday, December 5, 2015.
During his tenure with NOPD, Adams was a member of the department's Urban Squad (1976-1980); a detective in the Felony Action Squad, an elite unit in the late 70's and early 80's, who performed extensive undercover work to apprehend criminals with felonies (1980-1981); a detective with the SWAT/Street Crimes Special Operations Division (1981-1985); and a commander of various divisions within the department from 1985 to 2005. In 2005, Adams was appointed Deputy Superintendent of the Public Integrity Bureau, where he served until 2007. Until his retirement, he was the last original member, still working with the department, of the Urban Squad and Felony Action Squad.
Adams was the first African-American commander of the NOPD's detective bureau for the robbery and narcotics divisions, and under his leadership, the first FBI/NOPD Violent Crime/Fugitive Task Force was developed; a unit that Adams commanded and for which he wrote the program.
Adams has received numerous awards and recognitions for his commitment and excellence in law enforcement, including the National Top Cops Award from the National Association of Police Organizations; the Police & Firefighter's Heroes Hall of Fame Award; and two Purple Hearts for incidents in which he was shot while in the line of duty.
In addition, Adams has served as an adjunct professor of criminal justice with Concordia University and SUNO.
"We are thrilled to have such a high caliber law enforcement veteran as Bruce Adams to serve as our new campus police chief," said Chancellor Victor Ukpolo. "The expertise that he brings to us will enhance our campus and allow to us to continue to provide a safe environment for our students, faculty and staff."