SUNO Competes Well In Outdoor Championships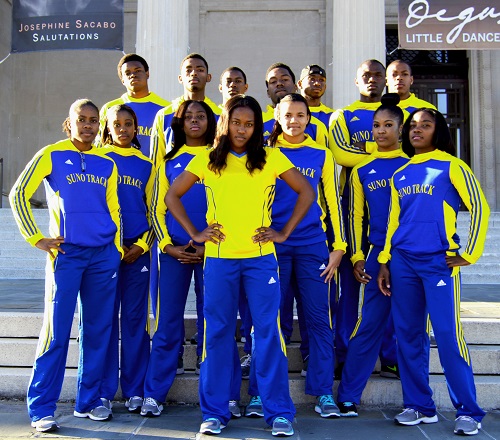 For the second consecutive year, the Knights led all schools in event victories at the 2016 GCAC Outdoor Track & Field Championships. In the Women's Championship, the Lady Knights came in second place.
The Knights took home 10 titles and set two championship records. In individual competition, Jahnoy Thompson won both the 100 and 200 meter sprints. Alex Saunders won the 3,000 meter Steeplechase, and Danielle Richards took home the 400 meter and 800 meter runs. The 400 meter hurdle title went to Chad Thomas and Rasheed Cunningham won the triple jump with a record-setting 14.39 meter performance.
SUNO also set the GCAC Championship record in the 4x100 meter relay with the team of Rodrick Owens, Chad Thomas, Jahnoy Thompson and Danielle Richards finishing the race in 41.13 seconds. SUNO also won the 4x800 meter relay behind Sanj Powell, Saunders, Brian Smith and Thomas, and narrowly missed setting the record in the 4x400 meter relay as the team of Owens, Saunders, Thomas and Thompson finished .6 of a second off the mark.
The Lady Knights missed winning the title by 17 points. SUNO dominated on the track, winning nine out of 12 events. Oshin Brooks-Gillings was a part of five of those wins. She ran anchor on SUNO's 4x100 meter relay team that broke the championship record with a time of 46.40 seconds, as well as the 4x400 team that set its own GCAC mark with a time of 3:49.53. Brooks-Gillings set conference marks in both the 100 meter (11.63) and 200 meter sprints (24.09).
Her teammate Orenthia Bennett had almost as good a day. She was a part of four winners; the 4x100 and 4x800 meter relays, along with the 1500 meter and 800 meter runs. The Lady Knights also got victories from Shadae Hylton in the 400 meter dash and Shantae Green in the 400 meter hurdles.