Orenthia Bennett Named Track Athlete of the Year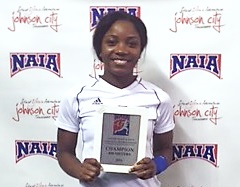 The U.S. Track & Field and Cross Country Coaches Association (USTFCCCA) has named Lady Knight Orenthia Bennett the South Region Track Athlete of the Year. A junior from Treasure Beach Jamaica, Ms. Bennett s the top-ranked athlete at 400 meters (54.16). She will be the favorite to win the event at the NAIA Championships starting Thursday in Gulf Shores, AL.
Ms. Bennett won two individual (the 800 and 1500 meter runs) and two team (the 4x100 and 4x800 meter relays) events at the 2016 GCAC Outdoor Championships. She also is a two-time GCAC Track Athlete of the Week.