'Hidden Figure' Katherine Johnson to Receive Honorary Degree; Sally-Ann Roberts to Deliver Commencement Address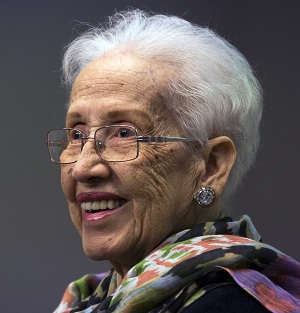 Southern University at New Orleans (SUNO) will confer an Honorary Doctor of Humanities degree for Katherine Johnson, a physicist and mathematician who made contributions to the U.S. space program, Saturday, May 13, 2017 at 4 p.m. in the Lakefront Arena. The Commencement speaker is WWL-TV's Sally-Ann Roberts.
SUNO will confer degrees for 525 graduates. The Class of 2017 consists of 72 honor graduates: 4 Suma Cum Laude, 16 Magna Cum Laude, 39 Cum Laude and 13 Honors. Health Information Management Systems major Keri Randolph will graduate with the highest grade-point average of 3.979. (The 2017 Graduate List is attached.)
As a child, Ms. Johnson had an intense curiosity and was brilliant with numbers. At 13, she attended a high school on the historically black campus of West Virginia State College. She enrolled in the college five years later, graduating with the highest honors in 1937. After receiving her degree, she began teaching at a black public school in Virginia.
In 1939, she was one of three black students to integrate West Virginia University when she enrolled in the graduate math program. She left school to start a family with her husband, James Goble, who died of cancer in 1956.
Ms. Johnson began working at the National Advisory Committee for Aeronautics' (NACA's) Langley laboratory in 1953. In 1962, she began working on the calculations that helped synch Apollo's lunar lander with the moon-orbiting command and service modules. These calculations contributed to the success of John Glenn's orbital mission, which marked a turning point in the space competition between the United States and the Soviet Union. Ms. Johnson also worked on the space shuttle and the Earth resources satellite, and authored or co-authored 26 research reports. She retired in 1986.
In 2015, President Barack Obama awarded Ms. Johnson, then 97, the Presidential Medal of Freedom, America's highest civilian honor.
Ms. Roberts co-anchors the highest-rated local morning news program in Louisiana. She and co-anchors Eric Paulsen, Mike Hoss and Sheba Turk provide a blend of news and entertainment from 6 to 9 a.m. Monday-Friday on Channel 4's Eyewitness Morning News.
Ms. Roberts began her tenure at WWL-TV on March 31, 1977. As a City Hall reporter, she covered city government during the administrations of Moon Landrieu, Ernest Morial, and Sidney Barthelemy. In 1998, she was part of the reporting team that earned WWL-TV the coveted Edward R. Murrow Award for late-breaking news.
Certainly, her most cherished accomplishment occurred in the fall of 2012, when she donated her bone marrow to her sister Robin Roberts, who was suffering from a life-threatening disease called MDS. Since then, both sisters have traveled advocating for donors to be added to the National Bone Marrow registry by speaking at conferences ranging from the National Conference of Be The Match in Minneapolis, MN to the STEM Cell Conference at The Vatican in Rome. They both received recognition in 2013 from the New Orleans Sports Hall of Fame as well as Coachart in Los Angeles, CA.
In 1994, Ms. Roberts co-founded with Cathy Harris the mentorship organization, Each One Save One. Over the years, the non-profit organization has recruited, screened, trained and placed hundreds of mentors in schools and organizations across the metro area.
After being a widow for five years, Ms. Roberts remarried in 2007. She is the proud mother of three children and grandmother of three. Asked to what she attributes any success she may have achieved, she gives all honor, glory and praise to God.