Chancellor Ukpolo to Officiate His Final Commencement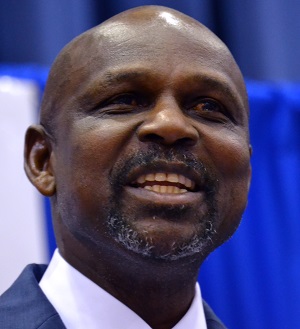 La. Gov. John Bel Edwards is the guest speaker for the 2016 Southern University at New Orleans Commencement at 4 p.m. Saturday, May 7 in the Lakefront Arena. This year's ceremony will be Chancellor Victor Ukpolo's last. After leading the University for 10 years, Ukpolo will step down as Chancellor on June 30.
SUNO will confer degrees for 500 graduates. The Class of 2016 consists of 66 honor graduates: 5 Suma Cum Laude, 16 Magna Cum Laude, 40 Cum Laude and 5 Honors. Biology and Pre-Med major Samuel Okpechi will graduate with the highest grade-point average of 3.937.
Ukpolo announced his resignation March 15. He was appointed Chancellor on Jan. 6, 2006. He led SUNO during a critical time in the University's history, rebuilding the campus that was submerged in flood waters after Hurricanes Katrina and Rita. During his tenure, the University built its first-ever housing complex, an Information Technology Center, a new College of Business & Public Administration Building, and a Small Business Incubator on the newly developed Lake Campus.
He also oversaw the renovations of the University Center, the Leonard S. Washington Memorial Library and the first floor of the Bashful Administration Building. In addition, four new buildings are slated to be constructed: the Education Building, the Natural Sciences Building, the Arts, Humanities and Social Sciences Building, and the Millie M. Charles School of Social Work. The University broke ground on the new Social Work building in November 2015.
Formerly the Southern University System's Vice President for Academic and Student Affairs, Ukpolo previously served as Associate Vice President for Academic Affairs at California State University in Los Angeles. He also served as Associate Vice Chancellor for Academic Affairs/Special Assistant to the Chancellor for Academic Research for the Tennessee Board of Regents. He started his career as an Assistant Professor of Economics at Austin Peay State University, where he also held an administrative post as Executive Assistant to the President.
After he steps down, Ukpolo plans to return to the classroom to teach at SUNO before eventually returning to Nigeria as the patriarch of his family. "As I leave my post as Chancellor, I wish the University and the Southern System well," Ukpolo said. "I still will be here to serve SUNO and the system -- just in a different capacity -- as I make my gradual transition back to Nigeria."
Gov. Edwards will address SUNO graduates for the first time since he officially became governor in January. He previously served as the state representative for District 72 in the North Shore region. He is one of eight children from a family dedicated to public service. The Edwards have four generations of Tangipahoa Parish Sheriffs in their family lineage: His father was the elected Sheriff of Tangipahoa Parish and his brother Daniel currently is serving as Sheriff.
The governor is married to his high-school sweetheart, the former Donna Hutto. They have three children.